Shelving, Racks, & Carts Buyer's Guide
Shelving & Carts: Additional Information
The shelving & carts section of the KaTom Restaurant Supply website has several different types of shelving and / or carts that can be used to organize your business quickly. A neat appearance for your business is highly important, as it presents a positive image. Carts are also an important part of any business that needs to move large, heavy objects that could not be carried. This guide will break down each section and explain their individual uses.
Keg & Wine Racks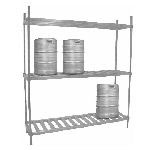 Keg & wine racks can be used to hold all of your businesses alcoholic beverages in one place. These racks are typically used in the back of the business where they are not seen by customers. These handy racks are extremely useful, being able to hold large kegs as well as small bottles.
Carts
Carts are the ideal way to haul around heavy items or even items that are awkward to hold or carry. This section holds food prep carts, utility carts, and cart accessories. Food prep carts allow you to carry trays of prepared food to any necessary location. Utility carts are typically heavy duty carts that can be used for moving equipment or other products that cannot be carried. Cart accessories are the items that help to complete your cart, such as refuse and silverware bins. These accessories provide a place for trash and silverware, respectively.
Dunnage Racks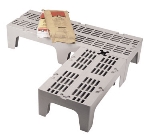 Dunnage racks allow for storage or transport of heavy items. These units can be purchased with either a solid or slotted top. Slotted top units allow for moisture or liquid to flow off the unit, which keeps the actual product dry and sanitary. These units can be locked together at the sides or ends to create a larger storage area.
Security Cages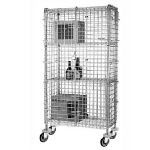 Security cages are an excellent way to store any items that need to be held in a convenient, yet secure location. Security cages are useful if the contents are stored in an area where only certain individuals should have access to them.
Pan / Can Racks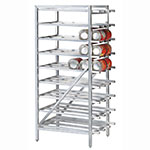 The pan / can racks category has 3 smaller sections that contain different types of storage. Can racks are created specifically to hold cans, either full size or half size. Pan racks are designed to hold pans or trays, and can then be transported to other locations. These are great for businesses such as schools, hospitals, or correctional facilities. Rack covers allow you to cover the contents of the racks while in transport. These covers also help to insulate the product, keeping the food warm and ready to serve.
Wire Shelving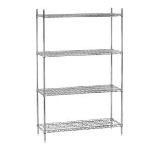 Wire shelving is essential to the organization and storage of products in any foodservice business. Shelving can be used nearly anywhere in a foodservice business, from the display floor to refrigerators and coolers to any back-of-the-house operation. KaTom offers wire shelving in four different types: precombined kits, shelves, posts & frames, and accessories. Precombined wire shelving kits offers complete shelving units in popular sizes and preconfigured designs. These complete precombined units are ready to assemble and hold any of your foodservice items. Shelves can be purchased individually to create maximum storage for your products. When you purchase shelves individually, and not in a kit, you can create your own shelving design and eliminate unused space. These are also great for 'nt of shelves for existing shelving units. Posts & frames can be purchased separate from shelves to allow you to design your own shelving unit or replace a bent or rusted pole. Posts and frames can be designed to hold as little or as much product as you deem necessary. can be purchased for wire shelving as well, such as sleeves, casters, inlays, donut bumpers, leveling feet, post clamps, shelf dividers, extended handles, connectors, and security feet.
Wall Mounted Shelving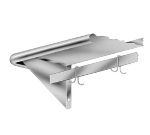 Wall mounted shelving provides additional storage space while maintaining the neat appearance of your business. Wall mounted shelves allow for ample storage area without taking up floor space in your kitchen. There are numerous types of wall shelving to choose from, allowing you flexibility and functionality.
Ceiling Mounted Shelving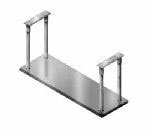 Ceiling mounted shelving is the perfect choice for those restaurants who have limited space for extra storage. These types of shelves take up no extra room on the floor level of your business. Use these in a dish room for extra cookware storage or in your cooking area to hold additional spices, dredges, and more!