Company Overview
Like many great American companies, KaTom Restaurant Supply got its start in a garage. Since our founding in 1987, we've grown into one of the nations's largest restaurant equipment suppliers, with more than 130,000 items on our virtual and physical shelves. When you order one, it will often ship from our 100,000-square-foot fulfillment center in East Tennessee within one day. Those that don't are shipped directly from well-known manufacturers like True Refrigeration, Manitowoc Ice, Dyson Airblade, Rubbermaid, Bunn-O-Matic, Vollrath, KitchenAid, and Lodge Cast Iron.
KaTom Mission Statement
KaTom strives to be a top performing leader in the foodservice equipment and supplies industry, providing excellent customer service by utilizing superior technology and efficient operations, through continuous improvement, while empowering our diverse workforce.
Our Core Competencies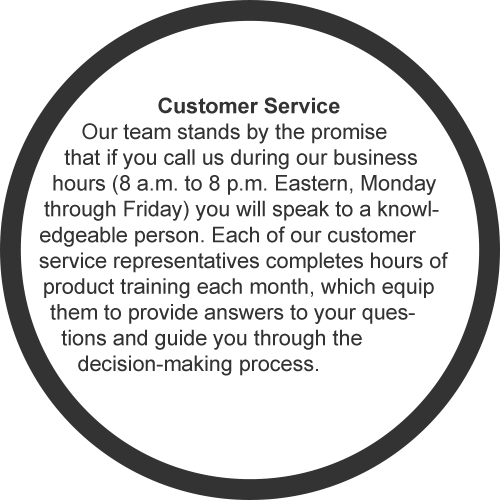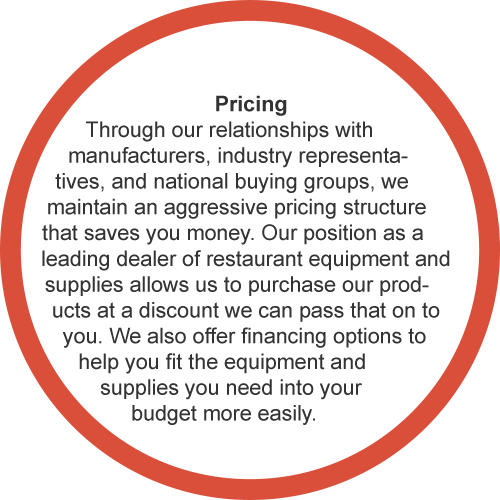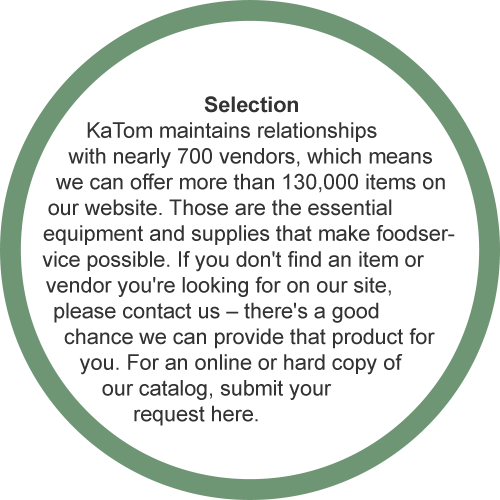 Back to Top ▲
Vision
Driven by our mission statement, with a foundation in our values and core competencies, KaTom strives to connect every customer with the equipment and supplies he or she needs to be successful. To achieve that, we will continually improve our product offerings by adding new lines and refining those we already offer. We will also sustain our rigorous training programs for every employee who provides customers information, to help those we serve make the best buying decisions.
Certifications
KaTom holds a number of certifications from national business organizations and partners with others that we believe offer benefit to our customers.

KaTom was first recognized by the WBENC as a woman-owned business in 2009. It's a designation we're proud to carry, since it recognizes the pioneering leadership of our CEO Patricia Bible and her amazing accomplishments in leading the company. It also lets government buyers know they might qualify for a credit for purchasing from a woman-owned business.

KaTom is a certified partner of ENERGY STAR, the agency established to identify and promote efficient products. We have made a commitment to seek out and market products that are better both for our customers' bottom lines and for the environment.

Since 2007, KaTom has maintained a contract with the U.S. General Services Administration that acknowledges the company has worked to set aggressive pricing . That agreement also provides the gateway through which governmental agencies can secure products we sell at an established contract price.
Back to Top ▲
Awards & Recognition
We here at KaTom Restaurant Supply are always honored hen our hard work evry day on befalf of our customers is recongnized. Here are just a few of the ways we've been recognized in recent years.
Knoxville Chamber of Commerce Pinnacle Award - Woman-Owned Business Excellence
Our remarkable Founder, President, and CEO Patricia Bible was recognized in May 2014 with a Pinnacle Business Award from the Knoxville Chamber of Commerce. The award she shared with the company recognizes outstanding achievements by a woman-owned business in East Tennessee.
Inc. 5000
KaTom has been recognized for six years as one of the fastest-growing companies in America as part of the Inc. 500|5000 list. That consistent, rapid growth has also earned us recognition as part of the Inc. Honor Roll, which lists companies that have spent at least five years in the ranks of fastest-growing.
Inc. Hire Power
In addition to Inc.'s acknowledging KaTom as one of Merica's fastest-growing companies, the business publication also recognized us in its Hire Power Awards for 2012. That designation is given to private businesses that have created the most jobs in the preceding year.
Next Economy Hero
During the 2011 GROWCO conference, a gathering of hundreds of businesses driving the economy into the future, KaTom was recognized as one of five finalists for the Next Economy Hero Award.
NAFED Dealer of the Year
In 2013, the National Association fo Food Equipment Dealers (NAFED) named KaTom the restaurant equipment dealer of the year. NAFED CEO Mark Anderson said the award recognizes KaTom's "meteoric rise to success".Back to Top ▲
Secure Shopping Experience
KaTom uses the best security available to protect your online orders. Our entire website is hosted on a secure, HTTPS server and we utilize PayPal's PCI (payment card industry) compliant solution to endure that your personal information is secure before, during, and after every transaction.