Company History

KaTom Restaurant Supply Company History
KaTom's roots can be traced back to the early 1980s. That's when Russellville, Tenn., residents Tim and Patricia Bible found themselves scrambling to find equipment for the Western Sizzlin' restaurants they were building. To fix that, they started ordering more than they needed, keeping the excess in their garage for upcoming projects.
It wasn't long before they found friends from other foodservice operations were stopping by to stock their own kitchens. At first, they called their operation B&B Equipment and Supply, with the two letters representing their shared last name. When it came time to print their first catalog, though, they found that there were about as many other companies with that name as there are hills in East Tennessee.
That's why, in 1987, they came up with the name KaTom, with part drawn from Kathryne and part from Thomas, the middle names of their two young children Paula and Charley. That company would sell directly to foodservice operations, while the B&B name was assigned to the side of the business that does acquisitions and sells to other dealers.
With Tim's salesmanship and Patricia's determination, the company grew steadily in its first decade-and-a-half. That's thanks in large part to their mail-order business and a catalog that a teenaged Paula worked with her father to design while Charley helped orders get out the door in the warehouse.
At the start of the new century, Tim was one of the first in the restaurant supply business to realize the growing power of the Internet. He forged ahead despite doubts from some in the industry, and his family picked up the effort after his untimely passing in 2001.
Since then, KaTom Restaurant Supply has worked its way to the top 25 restaurant supply companies by offering more products, comprehensive service, and better information. Those three qualities have been the foundation of our operations since the beginning and we back up our offerings with both in-house and outside sales forces.
Those qualities have also driven growth that prompted the company to move out of the Bibles' garage and into a warehouse in an industrial area of Russellville. That building was expanded four times, but eventually couldn't keep up with KaTom's success, so in 2012 we moved to a 20-acre campus and a new 100,000-square-foot headquarters on Interstate 40 in Kodak, Tenn.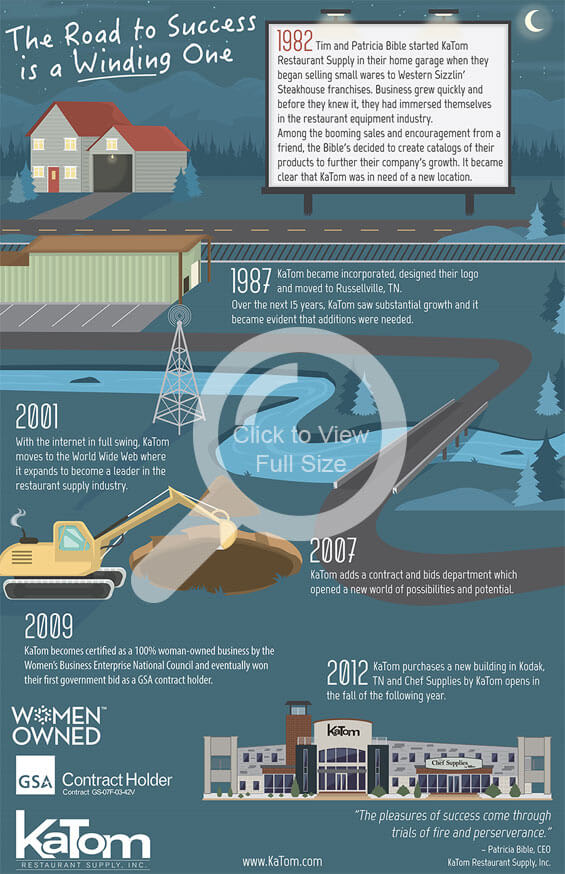 Patricia Bible
Founder, President and CEO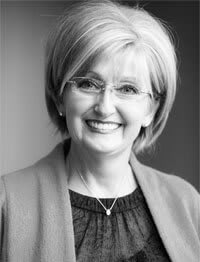 Patricia Ann Carter Bible has been solo at the helm of KaTom Restaurant Supply since 2001, and has led the company to becoming one of the fastest-growing in America and one of the largest in its industry. It was her dream that KaTom become what it is today, and it was her motivation and determination that got it there.
She and her husband Tim planted the roots of what would become KaTom in their home garage back in the early 1980s. The resulting business outgrew that garage and moved into a small warehouse in Russellville, Tenn., within three years. In the two decades following, the staff grew from two to more than 50, the number of products in stock grew from a couple dozen, and KaTom and sister company B&B Equipment & Supplies went from a mom-and-pop operation to one of the largest distributors in the industry.
Under Patricia's leadership since Tim's unexpected passing in 2001, KaTom has grown from $4 million in annual sales to many times that. Multiple appearances on Inc.'s list of America's fastest-growing companies earned it a place on the business publication's honor roll as it climbed Foodservice Equipment & Supplies magazine's list of the top restaurant equipment distributors in the nation.