Commercial Floor Mats
Keep your guests and employees safe from slips and falls with a commercial floor mat. This selection includes scraper and wiper mats for halls and entryways that help to clean and dry shoes as people pass over them. You'll also find floor protection mats that shield floors from scuffs and scratches to keep your floors looking new. Floor mat covers can add a playful pop of color in the kitchen or in public places and extend the life of both your floors and mats. Anti-fatigue mats are a lifesaver for staff who work on their feet all day. Put them at kitchen workstations or cashier stations to create a more ergonomic working environment.These mats come in all shapes and sizes to fit the space where they're needed. Standard door openings are three feet wide, so most mats designed for entryways are also three feet wide. Four foot wide mats are also common. Because anti-fatigue mats are needed in many different places, many of those types are interlocking so you can create the size and shape you need to fit perfectly in the area that it's needed. If your mat will be installed near the fryer, range, or other station that generate a lot of grease, make sure it is rated as greaseproof. Those that aren't can lose their nonslip properties if they come in contact with grease.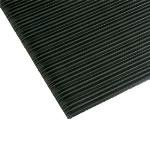 Give your staff additional comfort and safety with anti-fatigue mats, ideal for use anywhere an employee will be standing for long periods of time.
Shop All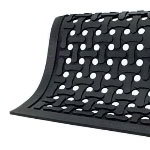 A rubber mat can drain away water and add traction. Some are grease-resistant for use near cooking equipment and may be connectable to create custom sizes.
Shop All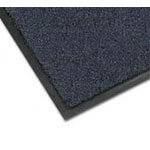 Entrance mats are textured and absorbent to capture water and debris from outside as customers enter. These mats are available in a variety of sizes and colors.
Shop All
Commercial Floor Mats Top Products