A Guide to Commercial Ovens & Ranges

A commercial oven is the heart of most kitchens in the foodservice business.The specific oven you will need for your restaurant depends on the type of food you will be cooking. There are seven main types of commercial ovens to choose from: convection, deck, specialty, conveyor, cook/hold, ranges, and specialty countertop ovens.This guide will break down each type of oven and help you to choose the most convenient, most efficient oven for your foodservice business.
Types of Commercial Ovens
Convection Ovens

Convection ovens are very close in manner to that of standard ovens, with the difference being the convection style ovens are equipped with a fan to help circulate the air inside the oven chamber. As a result of this fan action, the heat flows more evenly through the oven, which results in faster cooking times and a more evenly cooked product. Convection ovens can be electric or gas powered. These units typically have coved corners that allow for easier cleaning. Convection ovens can be pricey, but are well worth the initial price in return for a deliciously cooked product.
Deck Ovens
Deck ovens provide excellence in baking, performance, and durability.
Deck ovens have a simplistic design and quality construction that make them easy to clean and offers years of trouble free operation. Commercial deck ovens use a natural convection airflow for delicate baking, creating an ideal product every time. Large doors allow you easy access to the cooking chamber, which can accommodate small or large items, such as large breads or roasts or pizzas. These ovens will provide a quality product each time.
Specialty Ovens
Specialty ovens can really be broken down into four different categories to make shopping a little easier. There are combination oven/steamers, combination oven/proofers, rotisserie ovens, and smoker ovens. Combination oven/steamers offer the best of both oven and steam cooking. The oven function will cook just like any other conventional oven, while the steamer function will quickly and safely cook foods using a gentle, pressureless steam. This type of oven eliminates the need for dangerous boiling of products on the stove as well as eliminating flavor transfer.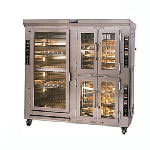 Combination oven/proofers offer the reliability and convenience of a traditional oven while also offering proofing capabilities. The proofer function of this combination oven holds foods at safe, steady temperatures until they are ready to be served.
Rotisserie ovens allow you to easily cook turkey, chicken, and many other types of foods while retaining their flavor and moisture.
Smoker ovens gently cooks, holds, smokes, and surrounds food with flavor, offering a better appearance, taste, and longer holding life. Smokers offer pressure free cooking with a rich smoked flavor. Smokers are ideal for cooking meats, poultry, fish, and even cheese. Smokers allow food to retain their moisture and flavor, while using less energy than conventional ovens.
Conveyor Ovens

Conveyor ovens offer consistency in cooking, from the conveyor speed to the cooking temperature. You can simply place the product at the opening of the oven and wait for it to come out the other end of the tunnel. Commercial conveyor ovens can be used to cook a wide variety of foods, such as pizza, sandwiches, meats, pastries, and breads. Conveyor ovens can be purchased in either countertop or floor standing models and can even be stacked to make the most out of your available space.
Cook & Hold Ovens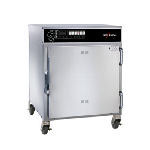 Cook and hold ovens work almost exactly as the name suggests. They allow you to cook the food product and then hold it there without worrying about it drying out or burning for a period of up to 24 hours. These ovens can be shifted from cook to hold function once the cooking is complete. The holding function can even be set to switch over automatically when a certain temperature is reached.
Ranges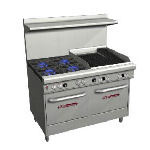 The range is the cornerstone of any commercial kitchen and can cook a variety of foods, from bread to the most complicated dish you customers can order. Ranges offer consistency in food cooking and temperatures, as well as a delicious, flavorful product.
Specialty Countertop Ovens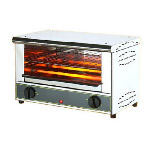 Specialty countertop ovens are must like the specialty ovens described before, just in smaller sizes that can fit onto an existing countertop.
Commercial Purchasing Checklist
How much space do I have available for a commercial oven?
Is the oven easy to clean and maintain?
What cooking temperature range do I need?/li>
Does the oven hold an adequate amount of racks for my needs?
Are there any special venting considerations for this specific oven?
Did I consider shipping and handling in the budget for this oven?