Getting the Right Concessions Equipment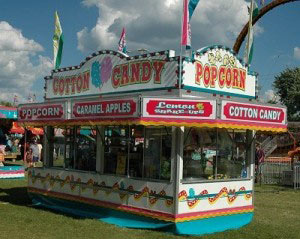 The county fair wouldn't be the same without candy apples and corn dogs; nor would an American sporting event score with fans sans nachos and popcorn. There are certain venues where people congregate and expect food to be served. If it isn't a location or event where it makes sense to have a full-service restaurant, a temporary or permanent concession stand or a light-service eatery can prove remarkably convenient and profitable.
According to estimates by Gold Medal Products, one of America's top concession equipment manufacturers, concessions sales can net up to a 94 percent profit thanks to the low food costs associated with concession treats. Please note that all figures provided here are estimates and do not reflect the profits you should expect, nor do they guarantee a return on your investment. The costs shown do not include miscellaneous line items like freight, shipping, and other supplies.
Among the most common concession stand offerings are:
Popcorn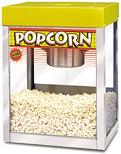 This delicious snack is always a big seller and can be flavored with butter, covered in caramel, sprinkled with seasonings, or cooked in a kettle.
The potential profit margin math: Popcorn provides one of the biggest potential profit margins, according to Gold Medal's experts. Assuming food costs of around 29 cents and a price point of $1.25 to $2 for a medium-sized bag (which anyone who has visited a typical movie theater lately can tell you is a steal), the potential profit margin is 76 to 85 percent.
Concession stand equipment needed: We've got it all, from poppers to butter dispensers, in one popcorn concession equipment category. At the very least, you'll need a popper, oil, popcorn, butter, salt, or oil, and serving boxes. We also have equipment you need to offer some tasty variations on the theme, including caramel corn equipment and kettle corn equipment.
Corn Dogs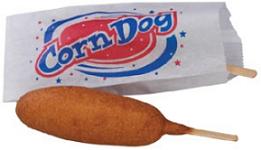 Corn dogs are hot dogs on a stick dipped in a cornmeal batter and fried to golden perfection, typically in a specialty fryer.
The potential profit margin math: Since hot dogs are pre-cooked, these take little time to prepare and can net profits from 67 to 78 percent, depending on the price point. Estimates run about 65 cents for food costs, so a price point of $3 would land you on the high end of that scale.
Concession stand equipment needed: Specialty corn dog fryers are a must because they offer space-saving designs important in most concession stands and simple operation that makes cooking a snap. You'll also need hot dogs, batter mix, sticks, and paper serving items. KaTom has those items categorized in our corn dog equipment category.
Pretzels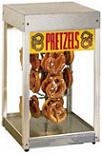 Pretzels take relatively little work to make. Use pre-mixed batter or your own recipe to create dough, twist it into an interesting shape, and then bake it. Pretzels can be topped with salt, cinnamon and sugar, and just about anything else in powder or granular form. Pretzels can also be served with dips like cheese or fruit toppings.
The potential profit margin math: Gold Medal does its math based only on selling its pre-made Meister Bake pretzels, which are available by the double dozen and can be salted, unsalted, or topped with cinnamon and sugar. Using those with a food cost around 92 cents and assuming a price point of either $2 or $3, the profit potential is 54 to 69 percent.
Concession stand equipment needed: For Meister Bake, all it takes is a little space to store them and possibly a display to advertise them. If you want to sell fresh-baked pretzels, you will need a pretzel oven to bake them. We also offer pretzel merchandisers that can keep those products at proper temperatures and humidity levels while offering an attractive display.
Shaved Ice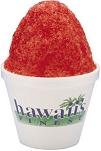 A thin layer of ice crystals is shaved off of an ice block then put into a cup and flavored with syrup to create a cool, sweet treat. With the bulk of the work done by a machine, offering shave ice doesn't take much effort and can bring considerable rewards. If you're running a concession stand at the beach, shaved ice is a must.
The potential profit margin math: Food costs are relatively low, since we're just talking about water and a little bit of syrup in a cup with a spoon. You're likely looking at a 30 cent investment for a return that could reach from 80 to 88 percent, depending on whether you offer it for $1.50 or $2.50.
Concession stand equipment needed: Our shaved ice equipment category includes ice shavers, ice molds, syrups, dispensers, and serving items. We also have carts that let you to take your concession stand on the road.
Snow Cones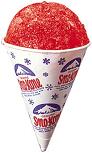 Often mistaken for shaved ice, snow cones are made with crushed ice rather than shaved ice. Because crushed contains a higher concentration of water, snow cones don't hold flavoring quite as well as shaved ice, but many customers prefer the crunchier texture.
The potential profit margin math: Because they use less syrup due to being served in smaller cone cups as opposed to shave ice's large foam cups, snow cones are cheaper to produce, with average food costs totaling about 20 cents. However, their retail is also lower, fetching around $1 to $1.50 on average. That still allows for profits of 80 to 86 percent.
Concession stand equipment needed: Making snow cones is a bit easier than producing shave ice because the latter requires forming blocks of ice in molds. Snow cone machines can crush bagged ice or any other type of cubes. KaTom's snow cone equipment category has the machines, serving utensils, syrups, and carts you need to get into this icy business.
Slushies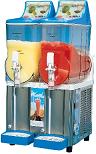 Slushies are clearly a close cousin of snow cones and shaved ice, but are made by a much different process. Slushies are created in machines that freeze a mixture of water and syrup or fruit juice, churning the mixture with an auger to create a consistent texture. That process produces a drink that is both icy and smooth, perfect for a hot day.
The potential profit margin math: Using mixes provided by your slushie machine vendor, these frozen drinks can be created for about 44 cents each in food costs. Their expected sales price is $1.25 to $2.25, with profits of 64 to 80 percent projected.
Concession stand equipment needed: The concentrated drink mix is just as important as the slushie machine itself. You'll also need cups, though straws are optional. Each of those and other accessories can be found in our slushie equipment category.
Smoothies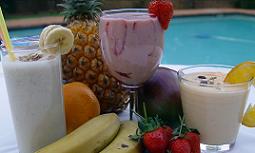 Smoothies are also in the icy-treat family, being as they're typically served cold and often with ice mixed in. Fresh smoothies can be produced using healthful ingredients like fruit and yogurt, but adding these trendy items to your concession stand menu can be as easy as adding water to a powdered mix.
The potential profit margin math: Using a powdered base to which you simply add water, you'll likely spend about $1 in upfront costs once you put it into a cup. Price points can range from $2.50 to as much as $4 per serving, netting profits of 60 to 75 percent based on these estimates.
Concession stand equipment needed: You'll need smoothie mix, serving items, and a slushie machine to freeze the liquid to that smoothie consistency. Check out our smoothie equipment category for the selection. If you will be using fresh ingredients, a blender will allow you to crush the ice and blend ingredients.
Cotton Candy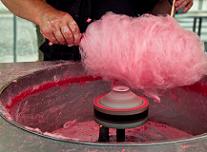 Cotton candy is floss sugar that has been heated and spun in specialty concession equipment. Flavorings and food colors are used to make different cotton candy types, and the candy floss is typically collected by a paper cone moved through the machine by the operator.
The potential profit margin math: Floss sugar is cheap, usually costing about 11 cents per serving. Pair that with a 2 cent cotton candy cone and you've got costs of just 13 cents. Assuming a price point of $1 to $2.50, you're looking at profit margins of 87 to an astounding 94 percent. That's the largest return of any of the items offered by the typical concession stand.
Concession stand equipment needed: Basic cotton candy equipment includes the sugar spinner, floss sugar, and cones. Bags can be used to sell packaged cotton candy, while domes for the machines can keep sugar strands from flying all around and carts can make the whole thing mobile.
Candy Apples & Caramel Apples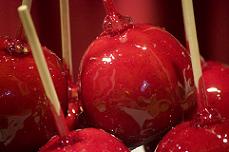 Both of these fruity treats start out with an apple on a stick, to which a sugary or caramel coating is applied. In either case, a warmer is needed to melt the caramel or the sugar mixture. Candy apples can be tricky in areas with high humidity, which can prevent the coating from setting. Many concession stands are moving away from the effort it takes to make a caramel apple and toward serving caramel apple chips by cutting apples into wedges and serving them in trays with caramel dip.
The potential profit margin math: A single apple can cost 50 cents or more, even when purchased in bulk. Top that with a red candy shell or add a side of caramel and you've got a cost of 77 cents per serving for candy apples and 86 cents each for caramel apple chips. With price points averaging on the low end at $2 to $2.50 and at the top around $3 to $3.50 (in each case the candy apple is the cheaper), you're looking at margins of 61 to 74 percent on candy apples and 56 to 68 percent on caramel apple chips.
Concession stand equipment needed: Candy apple equipment includes warmers, coating mix, cooling pans, sticks, and bags. The equipment needed for selling caramel apple chips includes caramel warmers, apple wedgers, caramel dip, and serving items.
Funnel Cakes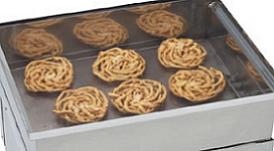 The funnel cake is one of the staples of the midway and the amusement park. In its simplest form, batter is fried in a specialty funnel cake fryer, then topped with powdered sugar, though other toppings like chocolate and strawberries can also be added.
The potential profit margin math: At an expected food cost of 54 cents, counting the batter, the frying oil, the sugar, and the plate, funnel cakes weigh in with a hefty $2 to $3 potential price tag. That provides returns of 73 to 82 percent.
Concession stand equipment needed: The batter mix, a mold to keep it in shape, the funnel cake fryer, oil, serving plates, and a sifter or similar device for distributing the sugar. Most of that can be found in our funnel cake equipment category.
Nachos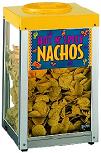 Nachos are corn chips served covered in or accompanied by warm cheese sauce. They can also be topped with other things, including salsa, jalapenos, ground beef, and pulled barbecue pork. Nachos are a big seller at fairs, amusement parks, sporting events, and anywhere else concession stands and hungry people coexist.
The potential profit margin math: The typical serving of chips will run 45 cents, while most of the cost from the serving will be in the cheese sauce at an expected 67 cents. Serving trays will add another 9 cents or so, bringing total food cost to about $1.21. That's the highest of any item covered in this article, but nachos retail for anywhere from $3 to $5 on average, yielding profit margins of 60 to 75 percent.
Concession stand equipment needed: You'll need a chip warmer or display merchandiser, a heated pump for the cheese, the cheese and chips themselves, and serving trays. All but the food items can be found in our nacho equipment category and in our concession trays and cups category. KaTom also offers Gold Medal nacho chips, cheese, and other toppings.
Pizza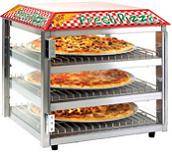 Almost everyone loves pizza and it just happens to be one of the most portable foods around. Many food suppliers can deliver ready-to-bake or pre-baked pizzas that you simply have to heat up and serve, giving you an easy way to cash in on consumers' love of pizza.
The potential profit margin math: The pizza itself can have a high upfront tab, with the typical pepperoni slice costing the concession stand about 75 cents. Add about 10 cents for a plate and you've got total food costs estimated at 85 cents. With a price point of $2.50 to $3, margins are about 66 to 71 percent.
Concession stand equipment needed: KaTom offers pizza merchandisers that not only provide an enticing display, but can also keep your pizza warm and prevent it from drying out.
Hot Dogs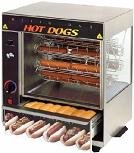 Like pizza, hot dogs are among America's favorite foods and they're easy for event-goers to tote down the midway or back to their seats. They're also similar to pizza in that they're remarkably easy to add to a concession stand menu.
The potential profit margin math: You'll typically have about 86 cents invested by the time you pay for the hot dog, the bun, a wrapper, and condiments. On the cheap end, hot dogs can sell for about $2, though they can easily fetch double that or more, depending on the setting and toppings. That means estimated profits starting at 57 percent and climbing from there. Though that's fairly low compared to other items on the list, don't forget that hot dogs are typically a gateway snack, leading customers to buy other more profitable things. Think about it: you can go to a concession stand and order just nachos or just popcorn, but if you get a dog, you're likely going to want one of those other things to fill out the meal.
Concession stand equipment needed: Hot dogs can be prepared on agriddle or on a hot dog roller, which takes most of the work out of preparation and can even have a bun warming area. You'll also need serving items like paper trays and napkins. Check out our hot dog equipment category for all our offerings related to this snappy snack.
Doughnuts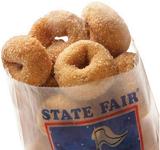 These little round pastries can draw a crowd all by themselves, so they're the perfect addition to any concession stand. They can give you some added attraction over your competition and give you the potential for tag-along sales. And all it takes is a little batter, some hot oil, and sugar.
The potential profit margin math: Even with the batter, the oil, the topping, and a bag or box to serve the rings of dough in, you're likely looking at costs of around 35 cents per serving, with 18 cents for batter, 6 cents for oil, 6 cents for a bag, and 5 cents for topping. Consider that those simple Os sell for anywhere from $2.50 to $4 per bag, and you're looking at profits of 86 to 91 percent.
Concession stand equipment needed: You'll need a doughnut fryer and a batter dispenser to make doughnuts from scratch. The good news is, people love to watch a doughnut maker in action, so you're likely to draw a crowd without even trying. You'll also need bags for serving and you may want something like a chocolate dip to coat your doughnuts. Check out our doughnut equipment to get everything you'll need.
Ice Cream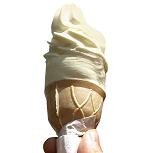 Soft serve ice cream is a popular concession stand treat in warm weather. Simply adding this offering to your menu can stretch your lines around the block when the dog days of summer arrive, but many people love this frozen food year round. Creating it means simply pouring a pre-made mix into a machine, letting it chill into a creamy consistency, then dispensing the product into a cone. That simple process makes it one of the easiest-to-offer treats.
The potential profit margin math: You'll probably invest about 15 cents per cone in the mix, 12 cents in the cone itself, and another 4 cents in a paper "boot" for the cone, if you choose to offer those. Given that 31 cent food cost and a sales price of $1.75 to $2.75, you're looking at 84 to 90 percent profit potential.
Concession stand equipment needed: KaTom offers all the equipment you need to begin serving ice cream, including soft serve machines and waffle cone bakers.
Frosted Nuts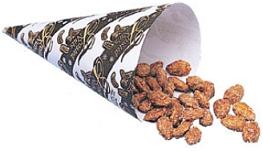 The unmistakable of smell frosted nuts warming lets this treat market itself. bringing impressive results from something that really only requires a brief toss in a pre-mixed coating.
The potential profit margin math: The most expensive part of the recipe is the nuts themselves because people expect more than just peanuts when they order this concession stand menu item, with many preferring options such as cashews or almonds. Each serving will cost around $1.25, while the coating mix runs about 19 cents, a splash of vanilla for extra flavor is 4 cents, and a cone for serving is 4 cents. Given total costs of $1.52 and a price point of $3-4, the profit potential is about 49 to 62 percent.
Concession stand equipment needed: The machine you need is called a Pralinator, which tosses the nuts around in the coating mix. You might also want to check out our food pans category for something to dispense your nuts from our selection of scoops.
Blooming Onions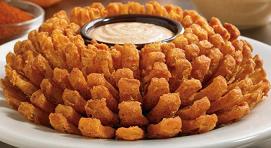 Since gaining popularity as a casual dining chain appetizer, this fried concoction has bloomed on concession stand menus across America. Creating a blooming onion entails partially wedging a large white onion, coating it in batter, and deep frying it. They're often served with a dipping sauce like a remoulade or ranch dressing.
The potential profit margin math: The onion accounts for the bulk of the food cost, at about 60 cents, followed by 37 cents of batter mix and 8 cents of oil estimated per serving. That brings the total food cost to $1.05. Gold Medal projects the price point for a blooming onion at $3.95 on the low end to $5.95 on the high end, though you might easily ask for more. That adds up to a potential profit of 73 to 82 percent.
Concession stand equipment needed: Gold Medal offers an onion blossom cutter specifically for these menu items. You'll also need some batter mix, which KaTom can provide you. To cook the onions, you will need either a countertop or floor-model commercial deep fryer.
Lemonade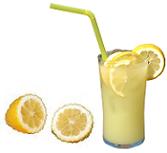 With all the delicious food on your menu, you know your customers are going to get thirsty. While fountain drinks can fill that need easily, complementing them with fresh-squeezed lemonade can really supplement your earnings and provide incredible profit potential.
The potential profit margin math: You'll likely be able to get enough lemon juice for each serving out of about 25 cents' worth of lemon when you're buying in bulk. Be generous and throw in 5 cents of sugar, then fill the 8-cent cup with water and ice. You have 38 cents in it. With price points ranging from $2.50 to $4 and maybe higher, you're again looking at estimated profit percentages in the upper 80s to lower 90s.
Concession stand equipment needed: You'll need a lemon squeezer and some cups. Except for the makings of the drink - things like lemons, sugar, ice, and water - that's pretty much it. Find the supplies in our lemonade equipment category.
Concessions Accessories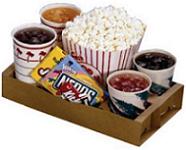 KaTom also has all the accessories you need to stock your concession stand. Check the concession trays and cups category for the serving items you need, including food trays, cups, and drink carriers. We offer stations for both dispensed condiments and packaged condiments. We also have the cleaning equipment you need to keep your concession stand sparkling and sanitary.
Get the Best Concession Equipment from KaTom
If you're ready to start stocking your concession stand, replacing equipment in an established one, or just need some assistance making the right buying choices, you can rely on KaTom. Contact one of our helpful customer service representatives at 1-800-541-8683 or info@katom.com.