So You Want To Start Serving Continental Breakfast...
As you may know, most hotels offer breakfast services, typically continental breakfasts. A continental breakfast generally consists of juices, hot beverages like coffee, and bread products like bagels or pastries. More goes into the set-up of continental breakfasts than you may first think, though. Thankfully, we here at KaTom Restaurant Supply have written a helpful guide on successfully preparing for a continental breakfast at your hotel!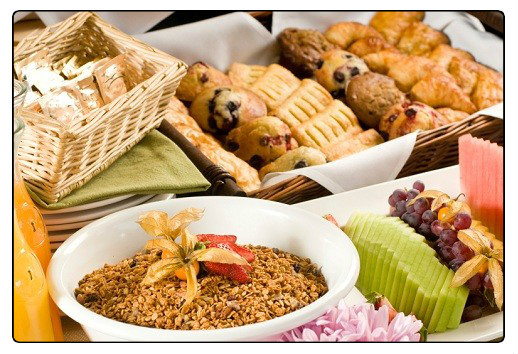 Find the pastry display cases, food baskets, juice dispensers, and utensils your hotel needs for a continental breakfast by shopping with KaTom Restaurant Supply. KaTom carries continental breakfast supplies at affordable prices you won't be able to pass up!
Continental breakfasts are typically set up in a buffet-like fashion but, due to their lack of hot foods, do not call for a steam table. Instead, displaying your goods in eye-friendly yet efficient cases or baskets is the best way to go.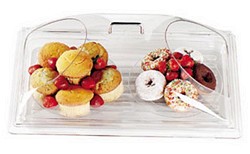 Store fresh, sweet pastries, bagels, crescents, and donuts in a pastry display case. These pastry display cases are see-thru for easy viewing and can feature several levels for separating pastry types. Pastries can also be easily displayed in decorative food baskets or eye catching display trays. Also keep in mind that a toaster is a great piece of equipment to pair with the breads offered to your guests. Don't forget to keep tongs nearby at every "station" for reducing the chances of contamination.
While not offered at all continental breakfasts, fresh fruits are a great item to have at a continental breakfast. If the fruit has not been chopped or prepared, food baskets or display trays are a great option for displaying them. If the fruit has been made into a salad or has been prepared, we suggest using a refrigerated drop in, an ice cooled drop in, or a refrigerated countertop merchandiser. Bottles of fruit juice can also be stored in a countertop merchandiser.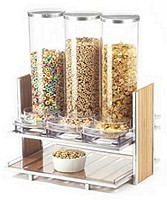 Are you choosing to supply your continental breakfast with cereal? Save money and reduce the amount of garbage sent to the landfill by replacing individual serving cereal boxes with cereal dispensers. You can buy cereals in bulk and simply re-fill the cereal dispenser when it is called for. Cereal dispensers will also give your hotel continental breakfast a sleek, modern look.
Juice dispensers are a great way to keep juices cold as well as display them. If you're looking for fresh squeezed orange juice without the effort, we recommend an automatic orange juicer. All your workers will have to do is stock the basket with oranges; the machine takes care of the rest.
A coffee brewer is a must for continental breakfasts. KaTom carries a large selection of coffee brewers as well as insulated carafes or airpots for keeping the brewed coffee hot. A decanter brewer with a warmer will also get the job done successfully. Don't forget the extras for the coffee. You will want to stock your coffee area with non-dairy creamer, coffee stirrers, disposable insulated coffee cups, and sugar packet holders.
Your hotel guests will most undoubtedly need a place to dispose of their extra food, disposable cups, etc. Installing drop in waste chutes into the countertops can help to keep the counter clean. Drop in or no drop in, be sure to keep at lease one trash can in view of the breakfast area.