How-to Guide to Starting Your Own Home Cake Decorating Business!

Have you ever walked into a specialty cake shop and said to yourself, "I could make that?" Or are you just tired of paying someone else to personalize a cake for your special occasion? It may be that you have an artistic flair and would like to pursue a money-making home business. If any of these scenarios apply to you, then read on!
KaTom supports your entrepreneurial spirit, which is why we've created this handy guide. If you've ever thought of starting a cake decorating business from your home, then KaTom has a few tips on how to do it and what you'll need. From equipment and supplies to permits and licenses, KaTom has the information to get you started!
What You'll Need:
Okay, now that you've decided to take the plunge into a huge bowl of icing, you have to know what tools that you'll need. You certainly don't want to take shortcuts here, making do with what you've already got in your kitchen. There is no comparison between having the right icing tip for the job and cutting corners off of a plastic bag, which, by the way, just creates a mess! KaTom has created this all-inclusive list of the must-have tools for cake decorating, all of which can be purchased on the KaTom website!
Tools of the Trade
Writing Tips – This 24 piece set of writing and decorating tips is exactly what you need! It also comes with a handy box and lid for easy storage. This assortment of tools will allow you to create any design that you want, including flowers, stars, and leaves, and the various straight tips will give many options for size of text. Also, you won't have to clean out a tip to change colors if you have plenty of back-ups!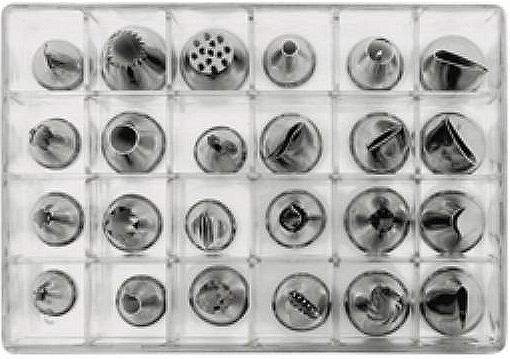 Baking supplies
Cake pans – 8 Inch round (preferably two)
Spatulas – 11 Inch, angled spatula
Couplers – Coupler Ring and Coupler (A coupler is designed to make cake decorating easier and minimize mess.)
Cardboard (cut to an inch wider than the cake on all sides)
Food Supplies
Icing – Buttercreme Icing Ready to Use, 5 lb. tub of White
Icing Colors – Primary Set of 4-12 colors, Pastel Set of 4-6 colors
Store-bought cake mixes
Decorations or sprinkles
Training
If you are naturally artistic, you do have a leg up on the competition. But it never hurts to put in some school time! Take a cake decorating course to hone your skills. Or if you are a newbie to the art, taking a class can teach you how to create masterpieces, so you don't waste a lot of time trying to figure it out on your own.
Costs and Overhead
There are many advantages to working out of your house. The commute to work is incredibly short. You don't have to dress up to go to the office. And, best of all, it costs nothing to start. For a home-based business, there really is no overhead…unless you count your mortgage.
But, you will need to check with your local health department agency about code regulations. To be able to sell your baked goods, you may have to create a commercial kitchen. In which case, you would need to purchase a commercial work table, refrigerator, and oven.
Permits and Licensing
With any new business, you'll need to make sure that you've acquired the proper permits and licenses to run your cake decorating venture. Depending on your state, county, or city, different regulations could apply. Review the Small Business Association website for more details about what is required for your business.