Gold Medal Concessions

Table of Contents
Company History
Selling ink sounds like an odd place for a concession supply company to get its start, but that is exactly where Gold Medal Products began. The company originated as Kings Ink Company and was purchased in 1931 by David Evans. Evans immediately expanded the company's offerings from just ink to include glue, eyeglass cleaner, and window washing compound. He also established Gold Medal as the company's food line, introducing soft drink concentrates, cake flours, and cake colors. Sales grew quickly, and in 1933 Evans hired the company's first employee as the food line continued to expand.
Gold Medal Products has a history of innovation and staying on top of concession trends. As snow cones were growing in popularity in the 1940s, the company patented the first complete Sno Kone® machine. In 1949, the company created the first factory-made cotton candy machine, which launched Gold Medal cotton candy. Around this same time, the company's first popcorn poppers were being introduced and Gold Medal popcorn quickly became one of the company's bestsellers, which it remains to this day.
Today, Gold Medal Products has expanded to 11 branches in North Carolina, Chicago, Columbus, Georgia, Indianapolis, Jacksonville, New Orleans, Orlando, Pittsburgh, Tampa, and Tennessee, and employs more than 350 people nationwide. The company's resources have grown as well, and they now offer helpful tutorials, guides, and profit calculators for their products.
Gold Medal Milestones
1919: Kings Ink founded by Augustus Ellis
1931: David C. Evans takes out a $2,000 mortgage on his home to purchase Kings Ink
1932: Evans establishes the Gold Medal food line to sell soft drink concentrates, cake flavors, and cake colorings
1933: Gold Medal's first employee is hired
1948: Gold Medal develops the first complete Sno Kone® machine with display case
1949: Whirlwind Floss Machine and Pop-A-Lot popcorn machines debut
1951: Gold Medal creates a machine that can roll paper cotton candy cones. The company remains the world's only producer of these cones
1951: Needing more space for production, the company moves to a 90,000-square-foot building
1960: David Evans retires
1991: J.C. Evans, son of David Evans, becomes chairman of Gold Medal
1997: The company upgrades once more to a 350,000-square-foot facility
Popcorn
Popcorn has a long history, with evidence pointing to it being enjoyed as far back as 4,000 years ago. The Aztec used popcorn, which they called momochitl, not only for food but for decoration on headdresses, necklaces, and statues of their gods. Early Peruvians also enjoyed popcorn as a snack, calling it pisancalla. In American history, popcorn was considered a breakfast food long before it turned into the snack we know today. In fact, the Kelloggs who would later go on to invent Corn Flakes encouraged the use of popcorn as a breakfast cereal, claiming it was "to the highest degree wholesome."
While most businesses struggled through the Great Depression, Gold Medal was just getting its start and picking up steam. Popcorn sales grew as the economy tanked, since it was a cheap treat that many families could still afford when other luxuries were out of reach. Popcorn continued growing in popularity throughout World War II as sugar rations made obtaining that commodity difficult and Americans turned to more savory snacks.1 Gold Medal had already established itself as a major popcorn machine producer by this time, and in 1949 introduced 6- and 12-ounce poppers, followed by 8- and 14-ounce poppers. The machines were so popular that the company had to move into a larger manufacturing space just two years later.2
When popcorn began to become associated with movie theaters, Gold Medal took note. In the 1980s, J.C. Evans and Ron Weiss, then the head of engineering, asked movie theater owners what innovations or changes would benefit their business. The resulting changes included adjustable batch sizes, dual warmers, vapor elimination, and aroma vents to entice customers.
Modern popcorn poppers are intricate machines, with large models requiring over 300 feet of wire. Today, nearly half of Gold Medal's machine sales are popcorn machines, with more than 200 models available. Every model is given a popcorn-popping test run before it leaves the factory to ensure the unit is working exactly as it should.
Gold Medal sells far more than just the machines you need for popping corn. The company offers one-stop shopping for all of your popcorn needs, including the kernels, oil, salt, butter, and seasonings. For those making coated kettle corn, Gold Medal has caramel and candy glazes, mixing kettles, cooling tables, and separating compound. For packaging, bags, boxes, and tubs are available, along with staging cabinets that keep the popcorn warm and retail displays, mobile wagons, and carts to sell from.
Sno Kones
Snow cones got their start in the 1850s when Baltimore children would ask for shavings off the large blocks of ice being transported in wagons. Parents would make flavored syrups in anticipation of their children coming home with shaved ice, with one of the original favorite flavors persisting in the city even today: egg custard.
For several decades, shaved ice was produced by hand with wooden ice shavers, but in the 1890s, there was a sudden surge of innovation, with six patents for electric ice shavers being filed.3 Much like popcorn, shaved ice became more popular during the Great Depression and World War II due to the availability and low cost of the ingredients. In 1948, Gold Medal premiered the first complete snow cone machine with a display case, called the Sno-Konette. A modern version of this model is still sold today, with extruded aluminum construction and a 500-pound-per-hour capacity.
Gold Medal has moved beyond just snow cones and now offers the Hawaii's Finest shave ice machines as well. These are similar in concept to snow cones – flavored syrups poured over ice – but the shave ice is a much finer flake of ice, more similar to fluffy snow than ice. This is often considered a more adult version of the frozen treat, with flavors extending beyond the typical fruit flavors and into piña colada, root beer, and strawberry daiquiri.
In addition to the ice shavers, Gold Medal also offers all the supplies you need for snow cones or Hawaiian shave ice except for the ice itself. There is a wide variety of syrups and flavor concentrates available, including a syrup that turns any flavor sour, sugar-free syrups, and syrups that use real sugar in place of high-fructose corn syrup. Serving cups and cones, spoons, and straws are also available, along with rotating or elevated syrup displays, serving scoops, bottle pumps, ice shapers, ice molds, and signs and posters for advertising.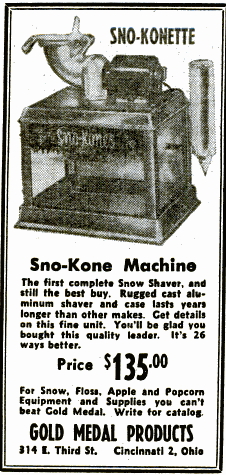 From The Billboard, April 29, 1957
Cotton Candy
Cotton candy was first sold in the United States at the 1904 World's Fair in St. Louis, Mo. The confection was called 'fairy floss' at the time, a name that persists in the UK and Australia to this day. John Wharton and William Morrison, a candymaker and a dentist respectively, paired up in 1897 to create the airy treat, and patented their 'electric candy machine' in 1903. The pair sold boxes of fairy floss for only a quarter each and made $17,163.83 during the fair – the equivalent of nearly half a million dollars in today's money.4
In the 1920s, another dentist got in on the fairy floss scene. Joseph Lascaux from New Orleans invented a machine similar to the 1903 creation and named the product in his patent 'cotton candy', a name that has stuck in the United States. From there, cotton candy grew in popularity, but when World War II came about and sugar rations were imposed, the candy's sales were put on hold.
After the war, however, cotton candy sales came back quickly, with manufacturers using war surplus motors to create the cotton candy machines. These motors were far more powerful than necessary, resulting in machines that shook, often fell apart, and always needed to be bolted to a sturdy table before use. In 1949, Gold Medal introduced a game-changer: a cotton candy machine that operated without the destructive vibrations.
"Then my dad had the idea of making a little casing and hanging the motor from four springs," J.C. Evans later recalled. "He used some spare parts from a Sno-Kone cabinet and a few war surplus parts, and we came out with the 1949 Whirlwind Cotton Candy Machine. We sold that model from 1949 to 1962, when we began coming out with new designs."5
Today, Gold Medal is leading the industry in cotton candy production, with 90 percent of all cotton candy produced in the United States made in a Gold Medal machine.
From The Billboard, April 13, 1957.
Cotton candy supplies offered by Gold Medal include everything you need to make, package, and display cotton candy. Flossugar and Flossine are available in many varieties, including fruit flavors, bubble gum, and novelty tastes such as chocolate, maple, and bacon. For packaging, paper cones, cellophane bags, laminated bags, and plastic tubs are available, with retail merchandisers, cone displays, and hawking poles available for merchandising your product once it is packaged. Gold Medal also sells pre-packaged cotton candy for locations where making your own isn't feasible.
More Fun Food
While popcorn, cotton candy, and snow cone machines make up the bulk of Gold Medal's sales, the company's products certainly don't end there. If it is sold at concession stands, Gold Medal likely provides the equipment and supplies needed to produce and market it.
Community Involvement
As a company that started small in Ohio and has grown to be the world's leading manufacturer of concession supplies, the folks at Gold Medal have not taken their success for granted. They give back to their community whenever possible, with generosity that has impacted countless lives.
In 2011, Gold Medal heard about a local boy with brain cancer who had reached out to the Make-A-Wish Foundation®. Joey wanted to go to Walt Disney World, and Gold Medal wanted to help make it happen. In December 2011, Gold Medal took donations from employees and distributors at their annual distributors' conference, then the company added a donation of its own to bring the total to $7,500, enough to not only fulfill Joey's wish, but also go toward another child's dream. In 2012, Joey was able to visit all four Disney parks, Universal Studios, and Sea World.
In 2013, 11-year-old Matt Woodrum became an internet celebrity when a video was posted of him running a 400-meter race, despite the pain his cerebral palsy causes him. Dan Kroeger, President and CEO of Gold Medal, was inspired by the video, and invited Matt to speak at the 2013 distributors' conference. Susan Schiller, the executive director of United Cerebral Palsy of Greater Cincinnati, also spoke, and the employees and distributors along with Gold Medal corporate came together to donate more than $6,500 to the organization.
Gold Medal has also shown a commitment to making its products available to as many people as possible, including the Jewish and Islamic communities, by working to obtain Halal and Kosher certification for all qualifying food products. Neither are easy to obtain, requiring large amounts of paperwork and intensive inspections, but Gold Medal has many Sno-Kone flavors, candy mixes, popcorn seasonings, and Flossine flavors certified as either Kosher, Halal, or both.6
1. Gold Medal's Greatest Pop Hits. Film Journal International. Accessed November 2015.
2. Supplier Profile: Gold Medal Products Co. Rental Management. Accessed November 2015.
3. History of the Snow Cone. Hartley's Brand website. Accessed February 2016.
4. Leitner, S. (1983, March). Cotton Candy. The Rotarian, 142-3, pp. 35. Retrieved from http://books.google.com
5. Garvey, M. (2000, October). Sweet Nothing. Cincinnati Magazine, pp. 84-89. Retrieved from http://books.google.com
6. Gold Medal Resource Center. Gold Medal website. Accessed November 2015.