So You Want To Start A Sushi Business...

"Sushi is not really about flavor as much as texture. Everything is usually made bite-size so you can eat it in one bite, which is more proper. – Tim Hoffman
Sushi, sushi, sushi! From the makizushi style California roll to kani nigiri you can bet each type of sushi has its fans. The popularity of sushi has only increased over the years and has become quite a trendy food. Many people of the United States are becoming avid fans of this dish and will travel quite far for a good sushi bar. If you're thinking about becoming a seller of sushi you'll need to make sure you are prepared for having what it takes to make sushi, the capital needed to effectively start your business, and the search for an experienced sushi chef, not to mention trying to get a good amount of customer flow. Do you think you're ready to start this journey?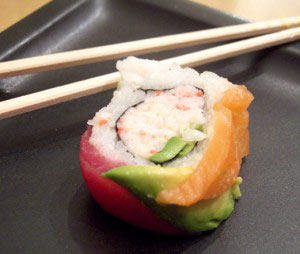 How Is Your Sushi Bar Special?
If you're choosing to open your very own sushi bar you'll first need to write a business plan. Brainstorming on what you want your business to be will help you to organize these thoughts and better accomplish them. Do you want to provide modern takes on this Japanese "fast food (like using a sushi model) or go for a more classic approach? How much will it cost for sushi ingredients like octopus, tuna, shrimp, nori, rice paper, and, of course, sushi rice? In fact, did you know that sushi refers to the rice and not raw fish? Keep food cost in mind when thinking of how much capital you will need to begin this business.
Location & License, Please...
If you really want your sushi restaurant to be successful you will need to pay special mind to your location. Sushi restaurants often go unnoticed in areas that aren't fairly metropolitan. Pick a trendy location that is close by to other restaurants, hot spots, and shops and you'll be picking up quite a bit more business.
Before you even think about opening your sushi bar you'll need to obtain all of your proper licenses and permits. These can vary depending on the area of your business so make sure to contact your local county clerk for this information or visit: www.business.gov/register/licenses-and-permits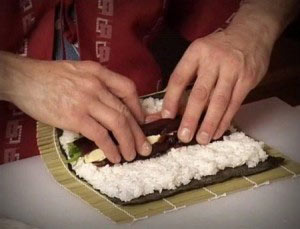 Helpful (And Experienced) Hands
If you think you'll be able to make every different kind of sushi and serve it up by yourself...well you're crazy! Making proper sushi can take years of training just to get the rice seasoned correctly. Unless you are a trained sushi chef I would advise looking for a seasoned sushi cook. Where to find someone with such desirable skills? Try scouting out the local culinary institutes, restaurants, and online job sites for prospective hires. You may need to hire wait staff for help in serving your guests. Don't forget the costs of paying your cooks and staff when you're calculating the money you'll need to open the business. After all, most restaurants fail because of under estimating how much money they actually need.
To make sushi you'll need the proper equipment for storing ingredients and more. Thankfully KaTom Restaurant Supply has everything you need and more to get things up and running!
A great sushi case will help you to display your product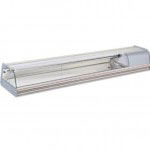 A refrigerated prep table holds ingredients and keeps them cold while your sushi chef works!
A sushi mat helps with the process of rolling sushi!
These knives are made from the best quality of "super steel and usually feature wooden handles.
Easily cook your rice to perfection!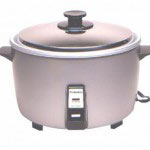 Keep your sushi rice contained and at the right consistency once it has been cooked!
Stir and retrieve the rice for your sushi with a rice paddle!
Bring product to your guests with a attractive bamboo tray and watch them gobble it up!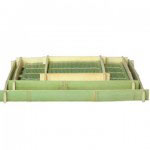 Sushi Plate
You'll have to serve sushi on something so why not sushi plates?
Would some of your guests prefer green tea with their meal?
When guests want to be hydrated, this is the way to go.
Sake Bottle
Many guests enjoy sipping on sake during their meal.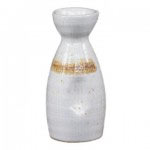 Sake Cup
Perfect for sipping on sake.
If you decide to add it to your menu, Miso soup is fantastic after sushi!
For slurping up soups!
Many prefer eating with chopsticks at sushi bars
Chopstick Rest
You've got to put your chopsticks somewhere!
Soy Sauce Bottle
Whether you choose to go the plain or decorative route, people will want soy sauce!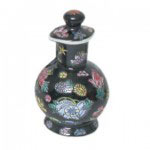 Keeping up appearances will have guests coming in for the food AND the atmosphere!