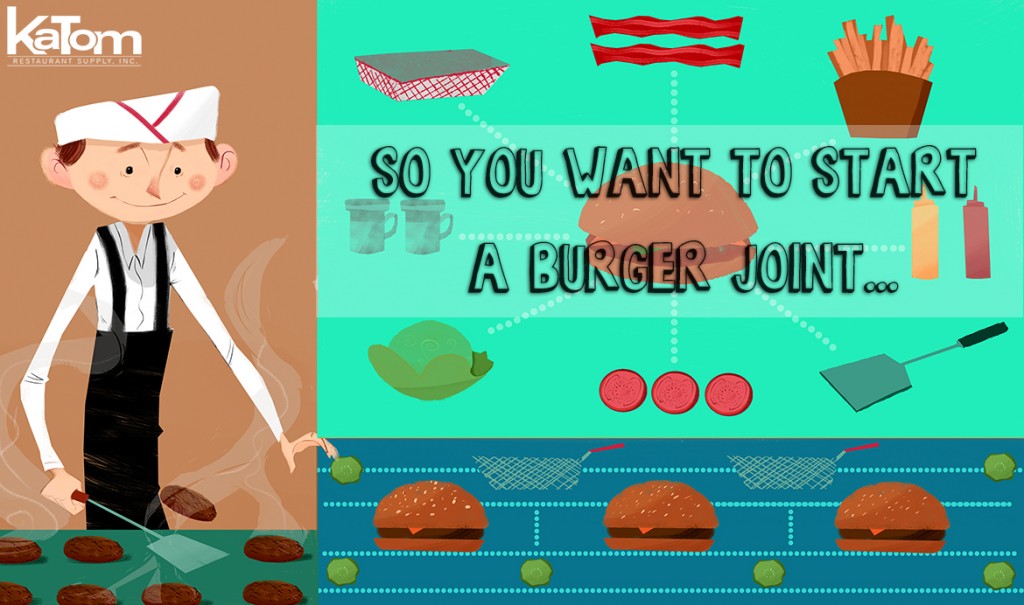 "You can find your way across this country using burger joints the way a navigator uses stars - Charles Kuralt
What could be more American than a juicy hamburger? Although there are several differing ideas on the origin of the hamburger (Germany or the United States mostly) it would be hard to disagree with the millions of people dining on these sandwiches daily that the US of A has perfected it. Everywhere you turn here you are bound to see a McDonalds, a Burger King, or even a Pals. Seeing that this particular sandwich is so beloved there is no harm in thinking about cashing in on the burger craze yourself. But be warned: beginning your own hamburger joint can be harder and WAY more expensive that you would first imagine.
If you aren't much of a cook yourself (or maybe you just want to take advantage of the dozens of burger "brands in the United States) you may want to look into buying a franchise store. With the purchase of a franchise comes customers who are already in "the know". This means that you don't necessarily have to try as hard to gain the public's following of your burgers; they already KNOW your brand. Although there are perks to the purchase of a franchise restaurant there are still costs! Many franchises call for a large amount of liquid capital, franchise fees that have to be paid in full, and on top of that you're most likely going to be seeing royalty fees and advertising fees based upon your franchise's income. For example:

Other than the large investments required just to start your franchise dream you may encounter the negative stigmas attached to large chain burger joints. These can include anything from nutritional stigmas to the flavor (or lack of) of your product.
If you can make one heck of a burger yourself and don't want the help of a well known franchise to boost your image it is still very possible to open up a hamburger business yourself. Some of the best hamburgers I've had in my life have come from single location burger joints. If you've decided on this route than there are a few things you may need to keep in mind.
It is best to set up your burger business around a busy area. How are you ever going to get a lunch rush if you're too far away from everything? When people order burgers they usually want them pretty fast so asking them to drive out of their way on their lunch break could be a bit too much.
Also keep in mind that better ingredients come with fantastic flavor. If your store has a great tasting burger made with fresh, grade A beef let them know! Advertise on your menu about the quality of your burgers. These ingredients will be your main weapon for competing against cheaper franchise burger joints.
No matter how hard you strive you can't achieve success alone. You will need employees to ring up orders and fry cooks to make the food. Having a few employees at first and then hiring more when you're pocketbook can afford the payroll will result in faster service, a necessity in the competitive burger business.
Now let's say you've set up your location, hired employees, ordered your food stock, and paid all of your permit/licensing/franchise fees. You may think you've accomplished everything you need to do before serving up your burgers to the public but there is one more thing you must look into: RESTAURANT SUPPLIES. Think about it, what do you need to make these burgers, fries, etc? Sure you'll need a large capacity fryer and grill, that's a given, but did you think about the trays people eat on or even the squeeze dispensers your cooks will need to dress the burgers? Thankfully I've had a few years worth of experience in the burger business and have made things easier for you by creating a list of hamburger joint needs:
As you can see, it takes quite a bit to start and maintain a burger joint! Nevertheless the profit made versus food cost for a burger is fairly high. This means that the possibility of making money in this field is high when compared to other food restaurants. If you are dedicated, hard working, have quite a bit of capital, and LOVE burgers then you're one step closer to being the burger mogul of your dreams. Congrats and good luck from your friends at KaTom!
-
Heather ;)
PS. I'd like to give a shout out to www.thefranchisemall.com for having great franchise information! Way to go you guys!