Restaurant Equipment Buyer's Guide
The equipment section of the KaTom website has commercial kitchen equipment and supplies that are frequently used in a foodservice business. These categories contain the large, main pieces of equipment you will need to get your business up and running quickly, or the pieces you will need to replace quickly should they malfunction. This guide will break down each type of equipment on the page and help to explain exactly what is in each category.
Commercial Refrigeration
The commercial refrigeration category houses all of the refrigeration equipment your business could need. Commercial refrigeration is any type of refrigeration equipment that you will need in your commercial kitchen to keep your products cold while extending their shelf life. The smaller subcategories are reach in refrigerators and freezers, ice makers, display merchandisers, deli & display cases, worktop & undercounter refrigerators, bar refrigeration, drop in refrigeration, food prep tables, walk in coolers & freezers, school milk coolers, blast chillers, ice cream freezers & dipping cabinets, outdoor refrigeration, and Summit medical and scientific refrigeration.
Sinks, Faucets, & Accessories

Sinks, faucets, and accessories hold the pieces of restaurant equipment that help to keep your business clean and sanitary. This category has 12 subcategories, such as NSF Compartment Sinks, hand sinks, Non-NSF compartment sinks, cocktail units & ice bins, bar sinks, and drains & drain boards. Silver soak sinks, portable sink & prep carts, hand sink accessories, faucets & repair kits, and mop sinks are also included in this category.
Soft Serve Ice Cream Maker Machines


This soft serve ice cream maker machine section has a superb selection of ice cream equipment to choose from, all of which create delicious, tasty ice cream each time they are used. Soft serve ice cream makers can produce two, five, or seven servings per minute, depending on the exact machine you purchase.
Dishwashers & Accessories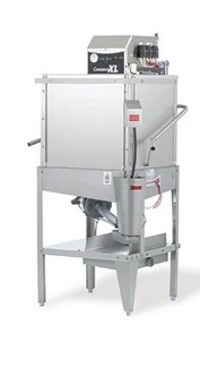 Commercial dishwashers is a broad category that houses products from the actual commercial dishwashers to the glass washers and brushes that clean the products inside the dishwasher. Glass & dish racks, flatware cylinders & bins, and cup & glass keepers are idea for helping protect your products from breaking in the dishwasher. Bus pans and dishwasher thermometers help keep your business organized and sanitary.
Commercial Mixers

The commercial mixers category includes all the equipment you will need to mix products in process of creating your delicious food for your customers. This category has two smaller subcategories, floor mixers or countertop planetary mixers. Floor mixers are large mixers that can mix massive amounts of product at a time, with the mixer actually moving inside the bowl. Planetary mixers have a bowl that moves around the mixer itself.
Food Bars & Accessories

The food bars and accessories category holds several smaller categories, all of which related to the necessary items for having a cold or hot bar or countertop buffet warmer in your restaurant. This section of the restaurant equipment page shows all the equipment that is needed for a salad bar or hot bar for hot food items, such as freshly cooked meats. This section contains necessary sanitary items for your cold bars or hot bars, such as sneeze guards, tray slides & end shelves, and food bar accessories.
Food Warming Equipment
Food warming equipment is an essential part of your foodservice business. Food warming equipment allows you to cook your product and keep it warm and ready until it can be served. This category holds subcategories such as heated pizza holding cabinets, heated cabinets, and combination proofers/heated cabinets. Commercial microwaves are included in this section are a valuable piece of equipment for any variety of businesses. Pasta cookers and rice cookers are ideal for creating the perfect dish. Proofing cabinets, pass through, roll through, and roll-in heated holding cabinets, quick thaw, and steamers are all included in this category as well.
Fryers & Accessories

The fryers and accessories category of equipment includes a very important piece of restaurant equipment for any business: the deep fryer. The deep fryer can quickly fry your foods, while creating an tasty, dark batter on the outside of the product, creating an eye catching food. Commercial restaurant fryers and pressure fryers will provide you with this high-quality type of food product. This category also houses all the accessories you will need for your deep fat fryers, such as the fryer baskets, taco / Mexican food baskets, and fry scoops. The gas connectors, filters & holders, and fryer screen grates are essential parts of the fryer that can be purchased here as well.
Grills, Griddles, Char-Broilers, Hot Plates, & Accessories
This grills, griddles, char-broilers, hot plates, & accessories category holds several separate smaller categories. You can choose from a variety of top of the line grills and then choose the perfect grill accessories to go with it. Salamander broilers, hot plates, char-broilers & outdoor grills, griddles, and Panini & sandwich grills are perfect grill types to cook almost any type of food you desire. These grills will provide your customer with delicious, appealing products with every use.
Hoods & Accessories

The hoods & accessories category is the perfect place to look for any type of grill hood or part you may need. This category holds baffle filters for hoods, which are filters that are evenly spaced to collect grease, which then drains down the baffles and collects in a trough.