Bar Drinkware
Get your bar drinkware at KaTom Restaurant Supply. We have a large supply of beer mugs, pilsners, shot glasses and plastic bar glasses. Also, don't forget to check out our inventory of mixing-bar glasses. For everything you need to stock your bar, find it at KaTom.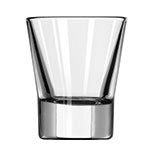 Shot glasses allow you to measure out small amounts of liquor for serving or adding to cocktails. Browse our available selection of shot glasses here.
Shop All
Our beer glasses equip you to serve every macro or microbrew on tap, from American lagers to abbey tripels.
KaTom offers wine glasses in a variety of sizes and designs to help you present red or white wine in a glass that will best showcase its flavor and your style.
Plastic bar glasses are safe and economic, and they're available in all the same designs as traditional glasses and with the same crystal-clear clarity.
Bar Drinkware Top Products