The Food Service Uniform Buyers Guide
Restaurant Uniforms & Food Service Apparel
You wouldn't go to the pool in slacks so why would you enter the kitchen area without the proper attire? There is a lot more to dressing your kitchen crew for success than chef coats and smocks. We've broken down kitchen clothing by the body part so finding the best apparel for your employees should be simple!
HANDS



Dishwashing Gloves – Made with rubber, latex, or nitrile. These gloves are used in the kitchen while cleaning dishes. Many dishwashing gloves are heat resistant for added protection against hot water temperatures.




Disposable Gloves – Mainly used in the food service industry for food prep, disposable gloves are ideal for sandwich shops, pizzerias, and more. Disposable gloves come in vinyl, nitrile, polyethylene, and non-latex materials.




Cut Resistant Gloves – These gloves are worn during food prep where a lot of knife work is called for. These gloves help protect the user from accidental knife slips or cuts. Cut resistant gloves are commonly made with stainless steel mesh, Kevlar, and Spectra.



Oven Mitts and Puppet Mitts – These are used in the kitchen to protect the wearer's hands from high temperatures. Oven mitts and puppet mitts are made in many different materials including neoprene rubber, silicone, Nomex, terry cloth, Kevlar, FLXaPrene, and even cotton.


Sugar Gloves – These gloves are used for handling pulled sugar and sugar sculptures. Sugar gloves help to keep fingerprints off of the edible artwork as well as help protect the wearer from hot sugar.
TORSO



Bib Apron – Bib aprons are commonly used for dressing wait staff as well as keeping employee uniforms cleaner during back of the house food preparation. Bib aprons are ideal for any situation where uniforms must be protected from soiling.



Dishwashing Apron – These aprons are used by the dishwashing crew to keep their uniforms from being entirely soaked by water. Dishwashing aprons also help to protect the employee from hot water or chemicals used during the dishwashing process. Dishwashing aprons are made with heavy duty materials like vinyl, neoprene, and plastic.



Smocks – The smock, also known as the cobbler apron, is usually two sided and features pockets for easy item storage. Cobbler aprons are made with materials like poly/cotton blends. Smocks can be used in the food service industry but are also great for use in craft stores, schools, childcare, florist shops, and even cleaning services.



Chef Coat – This article of clothing is mainly used in the kitchen to dress chefs as well as the back and front of the house managers. Chef coats come in many varieties and styles. Most chef coats feature pockets for keeping thermometers for checking food temperatures.
LEGS & WAIST



Chef Pants – Chef pants are usually worn with chef jackets and are made with breathable materials like poly/cotton blends or cotton.


Waist Aprons – This type of apron is most commonly worn by wait staff. Waist aprons can come with or without pockets for holding items like money, pens, and order taking pads. Waist aprons are commonly made with cotton, twill blends, and polyester.
HEAD & NECK



Pill Box Hat – this type of headwear is usually donned by lower level members of the kitchen crew and helps to keep hair out of the way. Pill box hats are made with breathable materials for hot kitchen use.




Toque – The toque, also more commonly known as the chef's hat, is mainly used in more upscale restaurants. It is a rule of the kitchen: the higher the height of the toque, the higher in rank that member of the kitchen is.



Baseball Caps – This type of head wear is more non-traditional but is still a great way to keep hair out of the way during the cooking process. Baseball caps are great for Quick serve restaurants as well as businesses like concession stands or food trucks.



Beanies – Beanies are another type of non-traditional kitchen head wear. Like baseball caps, they are great for concession stand use as well as fast food restaurants.



Chef Berets – This type of head wear is much like a cross between the traditional toque hat and a beret. Chef berets are ideal for kitchens that are viewable to the customer eye as they are a stylish choice that will look great on the kitchen staff.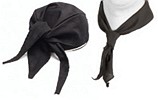 Scarves – Scarves can be worn around the neck to improve the chef's appearance in the kitchen. Scarves also come in styles that can be worn on the head and are a cool solution to keeping hair out of the way during food preparation.