Food Bars and Accessories Buyer's Guide

The food bars and accessories category of the KaTom Restaurant Supply website has all of the equipment you will need for holding either hot or cold food at safe temperatures for self-service. Food bars allow customers to serve themselves easily and quickly, while these bars can also be used to allow an employee to serve as well. This category holds several smaller sections that hold food bars, warmers, and all types of accessories.
Hot Bars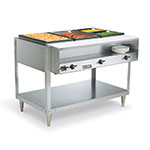 Hot bars are designed to practically and attractively display finished hot food products to customers. A hot food bar holds heated, prepared foods at temperatures above the 140 degree Fahrenheit "danger zone." Hot food bars can be purchased in two different types, either electric or gas. Electric hot bars are available in a variety of finishes, such as stainless steel, painted steel, laminate, and powdercoated finishes. Gas hot bars can be powered by either liquid propane or natural gas. Gas hot food bars have 2 - 6 burners and 2 - 6 wells. These units have dimensions ranging from 34" H x 30 3/8" W x 22 7/16" D up to 36" H x 88" W x 34" D.
Cold Food Bars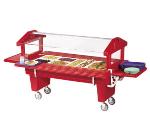 Cold food bars are designed to efficiently and attractively display all of your cold food products to customers. Cold bars can hold and maintain ice for hours and keeps temperatures at correct settings for serving cold, prepared foods. Cold food bars are available in two different types, either counter/table top or portable varieties. Counter/table top units are ideal for areas that have limited space. Portable cold bars are perfect when you need to move your food bar frequently. These cold food bars can be rolled easily to meet the needs of your business or organization. These portable cold bars range in size from 4-6 feet long. These units can be purchased in a variety of colors: fence green, brown, green, black, beige, blue, and dove gray.
Countertop Buffet Warmers
Countertop buffet warmers are great ways to display food products while keeping them warm and ready to eat. There are two types of countertop buffet warmers to choose from, either heated base units or heated base and infrared top heat units. The slight difference is presented by the infrared top heat. Heated base units are the perfect alternative to canned heat and are ideal for holding hot foods on buffet lines or at temporary serving areas. Heated base & infrared top heat countertop buffet warmers hold food safely at proper serving temperatures and are ideal for holding hot foods at kitchen work area, waitress pick-up stations, or customer serving points. These type of units have pre-focused infrared top heat that directs heat to the outer edges of the holding surface where heat loss is the greatest.
Food Bar Tray Slides & End Shelves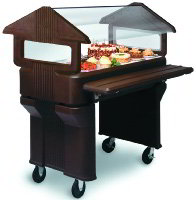 The food bar tray slides & end shelves section holds pieces of equipment that will make your food bar a more convenient place. Tray slides can be placed on the front of the food bar to allow customers to slide their tray along the unit for an easy to handle approach. End shelves are located on the end of the food bar and can be folded down when not in use. These units provide additional space to hold items such as plates, napkins, or silverware.
Food Bar Accessories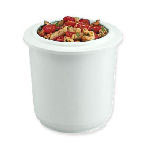 The food bar accessories section has three smaller categories that hold various items that will help improve the function of your food bar. The crocks and lids section has both crocks that keep food cold while they are being held and lids to cover the crocks. Crocks are ideal for foods that need to be kept at very cold temperatures. Adaptor plates & bars are precut standard size units that allow you to place items such as crocks or other food holders securely in the precut area. Insets & spillage / water pans are ideal for holding items such as vegetables that might need to be surrounded by water or liquid while being held.
Food Bar Sneeze Guards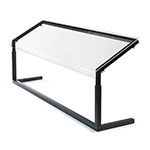 Food bar sneeze guards, also known as food shields, are used to protect food from food safety hazards caused by customers coughing, sneezing, breathing on, or otherwise interacting with food more than necessary. This protection is achieved through a pane of glass or clear acrylic material that literally acts as a barrier between customers and food. There are two main types of food shields: pass-over and reach-thru. Pass-over units are most common in serving line operations, where customers view their food options and the staff serves them. Reach-thru units are more common in buffet or self-serve systems, where customers reach under the food shield to retrieve their selections. Another less common type of food shield is the portable sneeze guard. These units can either sit on a table or are attached to the table with brackets.
Miramar Pans and Templates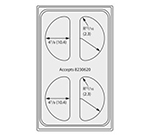 Miramar pans and templates are uniquely shaped to create a more elegant, unique appearance. Miramar pans come in various shapes and can be used to hold any type of food product. Miramar templates can be purchased in either oyster or night sky colors and can be found in the same distinctive shapes as the pans. These are ideal for any business or organization wishing to present a uniquely beautiful food bar.
GET Tiles & Cut Outs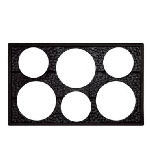 The GET tiles and cut outs category contains cut outs that are perfect for keeping your salad buffet well organized. These cut outs feature perfectly sized holes for holding round or square food crocks and come in a variety of sizes and colors.
Utility Stations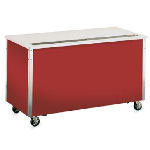 KaTom's utility station section features helpful utility stations that are ideal for selling beverages or buffet use. Many of the utility stations featured in this section are portable, making them a great choice for large catering businesses. Need a space saving utility station? KaTom also carries utility stations that fit in corners for better use of space in your establishment.