Pros & Cons of the Three Main Types of Commercial Fryers
Though it may seem daunting at first, choosing the best fryer for your food service establishment shouldn't be that difficult. As long as you know the menu you are or will be serving, finding your way will be a cinch. With that in mind, here are the three most common commercial fryers and the food items each is best suited to cook.
The Open-Pot Fryer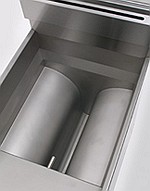 Best for foods like:
Packaged and frozen foods that need to be rethermalized, from cheese sticks to poppers to the beloved French fry. Open fryers are best for low- to medium-sediment foods that don't shed a lot of breading.
How they work:
They're called open pot fryers because the heat source is outside the vat on gas models, leaving that space mostly open. Electric models have a ribbon-like heating element inside the pot that typically swings out of the way to make cleaning easier. The bottom of this type is V-shaped, which makes it easier to clean, and has better temperature control thanks to thermostats mounted in the cooking area.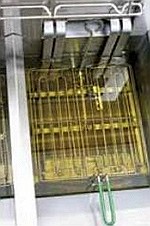 Since much of the frypot in this commercial fryer is clear, the open-pot fryer is perfect for fryer baskets. For best results on any fryer you use them with, shake those baskets over a sheet pan next to the fryer to remove lose crumbs prior to bringing food into the cooking area. This keeps unwanted sediment out of the oil and reduces the amount of ice that gets into the fryer, preserving the quality of your food and the life of your oil. During cooking, heavier sediment will settle into the deep "cold zone" - the area below the heating elements, near the filtration drain. That area of the vat should be cleaned regularly using a heat-resistant brush designed for that purpose.
Such sediment zones optimize the fry cycle by allowing particles from the food to precipitate away from the cooking area. It accumulates in that cooler, less turbulent part of the frypot, where it won't carbonize and ruin the flavor of your foods. Another benefit of sediment zones is extended oil longevity, since the sediment isn't burning and compromising the quality of the oil.
Pros:
These are easy to clean, offer better temperature control, and will typically outlive other types listed here.
Cons:
Open pot fryers can have slower heat recovery and the frypot drain can become clogged if it's not cleaned regularly or when frying high-sediment foods. These will need to be cleaned more frequently than other types.
The Tube-Style Fryer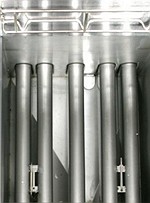 Best for foods like:
This is the most versatile type, capable of handling almost anything battered or breaded, including breaded seafood, bone-in chicken, onion rings, French fries, and anything else likely to produce a lot of sediment.
How they work:
They have tubular elements in the frypot that flames and heat pass through, heating the oil that surrounds them. Large sediment collection zones below those burners give them the ability to handle high-sediment foods. However, cleaning out from under those can be akin to washing your windows with the blinds down; it's not that easy to do a good job in the narrow openings. Because of that, the manufacturers recommend the vat be boiled out after each cleaning, to ensure everything has been cleared. If sediment is allowed to build up, it will begin to burn, which ruins the flavor of your foods and shortens the life of your cooking oil. Additionally, that build-up can force the burners to work harder, which might mean they burn out faster.
You won't find an electric unit in this design, as these are only offered with gas heat.
Pros:
Tube-style fryers can handle both low- and high-sediment foods, with the large collection area allowing for longer times between cleanings.
Cons:
Those cleanings aren't just more infrequent; they're also more difficult, thanks to the in-vat burner tubes. Heat difussers - little spinning flaps that help spread out the heat - in the burners also wear out and need to be replaced regularly.
The Flat-Bottom Fryer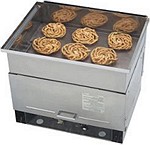 Best for foods like:
Funnel cakes, tempura, tortilla chips, taco shells, doughnuts, and wet-battered items, as well as unusual things like fried butter and candy bars. These are foods that float in the oil, so they don't settle on the hot bottom, and don't produce a lot of sediment.
How they work:
As you might guess, the bottom of the frypot is flat. When wet-battered items are placed in the oil, they first sink to the bottom, then rise to the surface as they cook. You might also see this type referred to as a funnel cake fryer, thanks to its proliferation in that field. It's also great for chips, because they float and don't need a deep cooking area. Rather than fry baskets, most users scoop food out of this type with a wire mesh skimmer.
Flat bottom fryers have no sediment collection or cold zone, which means sediment remains in the heat of the frypot. With the wrong foods, that can lead to a burnt flavor in the foods you cook and rapid oil decomposition caused by contaminant compounds in the oil. Because of that, this type is not good for foods like cornmeal- or flour-breaded fish and seafood.
There are both gas and electric models available in this category.
Pros:
Flat-bottom fryers are great for battered and specialty foods, and their shallow, open tanks make them easy to clean.
Cons:
Not a good fit for high-sediment foods, since those can produce crumbs that are likely to carbonize if not cleaned out regularly. Typically these are more expensive than the other types.