Chef Uniform Buyers' Guide

Chef uniforms have been around for nearly 200 years1, crossing borders and becoming an iconic representation of the profession. Modern chef uniforms are made to be practical, using flame-retardant, breathable fabrics for safety and comfort. They should be loose enough to be comfortable and allow ample airflow, without being so billowy as to cause a safety hazard in the kitchen. Below are some of the chef uniform options available from KaTom.
Chef Coats
Chef coats are most commonly available in white and black. Brighter colors are becoming more popular in commercial kitchens, but some employers do not allow them, preferring the formality of white or black. For those who want a little variation, chef coats are also available with piping in contrasting colors, usually black. While single-breasted chef shirts and coats are available, the traditional chef coat is double-breasted. This design serves a dual purpose: The dual layer of fabric provides extra protection against hot splashes and spills, and also allows chefs to reverse which side is in front when the jacket ends up stained partway through a shift.
Chef coats and shirts are available with short sleeves, 3⁄4-length sleeves, and long sleeves. Heavy cuffs are a common feature, which chefs may like as a protective feature. On some coats, the sleeves have small pockets or bands that can hold pens and thermometers. Others may have pockets on their fronts. Consider which pocket location will be most convenient for you when purchasing a coat.
Pants
Chef pants are available in a much wider variety of colors and patterns than chef coats, though many foodservice operations have rules on what employees may wear. Often, executive chefs wear black chef pants while the rest of the kitchen wears white or patterned pants. The most conventional pattern by far is black and white houndstooth, which is notable for its ability to hide stains. Other common patterns include stripes, chili peppers, and fish.
Elastic waistbands are prevalent in chef pants, but pants with button flies are also available. Cotton and cotton-polyester blends are the most common fabric choices, due to their breathability. Cargo pants are a common choice, as chefs enjoy having the extra storage for items like pens, clean tasting spoons, and notepads. For chefs who prefer to carry less with them, standard pants are also available.
Accessories
One of the most common accessories chefs wear is a neckerchief, a handkerchief made to tie around the chef's neck. These help catch sweat and keep the collar of the chef jacket away from the neck, creating some extra space for increased airflow. In some culinary schools, the color of the chef's neckerchief indicates the chef's rank. For chefs who have a little more flexibility in their neckerchief choices, there are wide ranges of colors and patterns available.
Chef hats come in many varieties, from the traditional toque that has been in use for centuries to more modern ball caps and beanies. Below are some of the hats available.
Pill Box Hat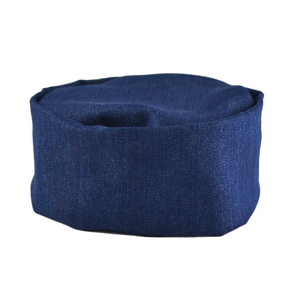 These small hats cover the very top of the head and are only a few inches tall, making them ideal for people with short hair. Most models feature an adjustable Velcro closure to fit a wide variety of head sizes.
Baseball Cap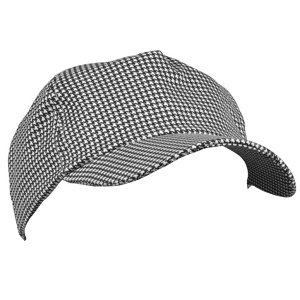 These familiar hats are common in some kitchens, but are often worn backwards to prevent the bills directing heat and steam directly into the wearer's face. These cover most of the scalp and can be worn over long or short hair.
Skull Cap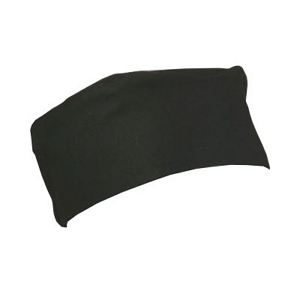 Skull caps are small hats made to be worn tightly against the head. These help keep hair out of the face and away from food. Most skull caps fit a variety of head sizes and can be adjusted with Velcro, a tie in the back, or an elastic band.
European Chef Hat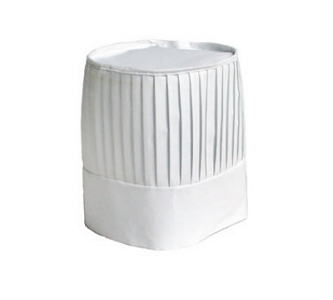 These hats are tall and cylindrical, with series of vertical pleats along their sides. These range in height from 9 to 12 inches, and are often favored because that height provides ventilation to keep wearers cooler. These traditionally have 100 pleats, supposedly referring to the 100 ways to cook an egg.2
Floppy Chef Hat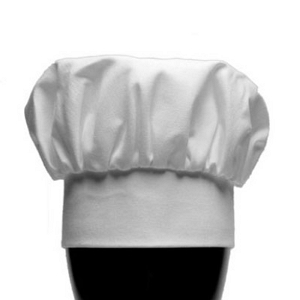 These chef hats fit snugly around the head, with wider, floppy top portions. These are commonly worn by lower-ranking chefs and in more casual settings. These are most commonly seen in white, but are also available in black and other colors.
Overseas Cap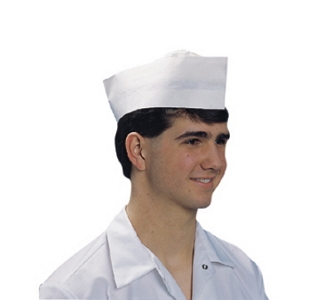 Also called a side cap, this type is made to resemble headcoverings that are part of the service uniforms worn by various militaries, including the U.S. Navy. These disposable hats are made of paper and may be printed with the restaurant's logo on their sides.
Beanie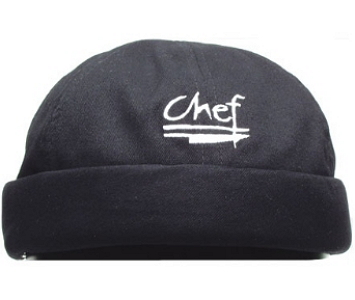 Chef beanies are only worn in casual kitchens. These may be made available with the restaurant's logo on their fronts and usually are large enough to cover the entire tops of wearers' heads down to their ears.
Scarf Hat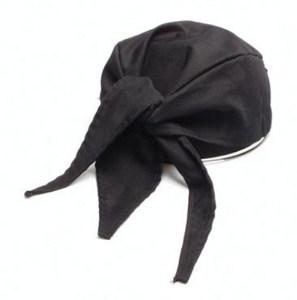 Scarf hats are valued for their lightweight construction and comfort, as the ties in the backs ensure customized fits for most head sizes.
A Brief History of the Chef's Uniform. Escoffier School of Culinary Arts. Accessed September 2017.
Why are there 100 Folds in a Chef's Toque? Bon Appétit. Accessed September 2017.