Dinex Healthcare Meal Delivery Systems

No one wants to spend time in the hospital, but when it is necessary, the patient experience can be greatly improved by good service. While the quality of the food being served is important for both morale and health, according to a study by Press Ganey1, how it is delivered can make a big impression. In order to provide the best service to patients, having a good meal delivery system in place is important. Since an efficient meal delivery system helps employees give patients better care, Dinex offers supplies designed to make healthcare food delivery simple.
Heating and Insulation
When you need to transport food from the kitchen to patients across the building or campus, preparing and plating the meal is only half the battle. Implementing a system to keep food warm is important for food quality and safety. Dinex has two heating systems that can be used to help keep food warm during transport from the kitchen to patient rooms.
Wax Bases
The first method available from Dinex is wax bases. These hollow, stainless steel plate-shaped pieces are filled with wax that melts when heated. The wax base heater uses convection heat to melt the wax with a temperature range from 140 to 330 degrees Fahrenheit. Once heated, the wax base is placed into an insulated underliner and the plate of food is placed on top. With an insulated dome placed over the top of the plate, the heat is held inside while the food is being delivered.
Induction Heating Systems
Another heated transport option is an induction heating system. These systems use a plate base that has an induction-ready core. The base is placed on a charger, which uses induction heating to quickly warm up the base. Because the base doesn't have to be filled with wax, the induction bases are more lightweight and easier to transport. The SmartTherm system can hold food at safe temperatures for 45 to 60 minutes, while the DuraTherm system can keep food warm for as long as 90 minutes.
Dinex Meal Delivery Carts
While those heating systems give you a way to keep food warm, the next step is to get it safely to the patients. Below are meal delivery carts that can help you get meals to patients in a timely manner.
Deluxe Tray Delivery Carts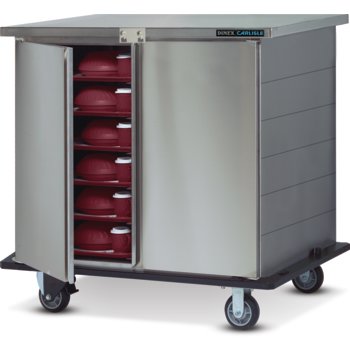 The deluxe tray delivery cart is an enclosed cart for transporting trays from the kitchen to patient rooms. The stainless steel cart is built to be durable and quiet with an adjustable interior to accommodate trays of varying sizes. These hospital meal carts are customizable, with options including floor drains to make cleaning simple, top rails to help prevent spills, a tow hitch for transporting multiple carts at once, and a bumper to help prevent damage to walls.
This low-profile cart is insulated to keep food warm, making it ideal for use with systems that use a wax base or induction system. The cart is fully welded and has a 14-gauge stainless steel chassis for additional strength. The door can be opened to a full 270 degrees to make loading and unloading trays simple. Deluxe carts can hold from 24 to 36 trays.
TQ Carts
TQ carts are named for their biggest benefit: "totally quiet." These carts are engineered for noise dampening with a magnetic door lock and quiet casters, so you can deliver meals without disturbing nearby patients. The TQ Economy is the most basic model, with an optional push handle and a stainless steel exterior. The standard TQ Cart has a vertical push handle, corner bumpers, and heat release vented side panels. A floor drain, push handle, top rail, and wrap-around bumper are optional features that can be added to the Economy and Standard models.
The most customizable TQ cart is the TQ Supreme. This meal delivery cart has replaceable stainless steel exterior panels that can be exchanged for woodgrain or custom-designed panels. The TQ Supreme has vertical and horizontal handles for convenient maneuvering and a full-perimeter bumper to help prevent accidental damage to the surrounding area.
TVL Cart
The TVL cart, Dinex's value line, designed as a blank slate. The cart in its most basic state is a single-door enclosed stainless steel delivery cart with a floor drain, full-perimeter bumper, and 5-inch casters. The cart is compact to take up as little space as possible in the kitchen.
However, there are several options available with this cart that can be added by the customer in the field instead of by the manufacturer, such as top rails and a second door to make the cart a pass-through unit. This hospital meal cart is designed to make these options simple to install, so you will never have to drill holes into the unit.
Specialty Tray Delivery Carts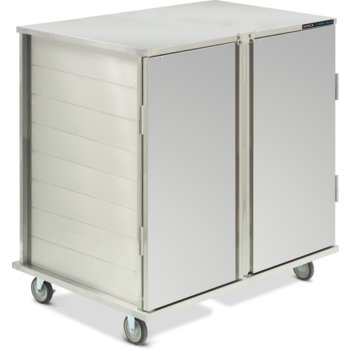 This cart is made to transport trays that are larger than the standard tray, such as retherm trays and the Architectural Plastics Room Service Tray. The cart is all stainless steel with a magnetic door handle. The small footprint makes it simple to maneuver and store.
Value Line Tray Delivery Carts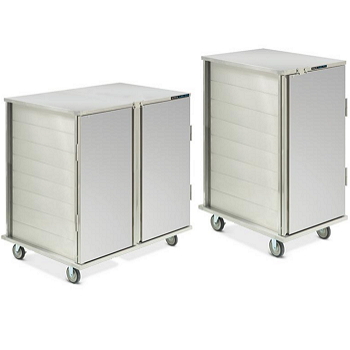 The value line of delivery carts are compact tray delivery carts that can hold from 6 to 32 trays depending on the model. These carts can accommodate 14-inch-by-18-inch trays and 15-inch-by-20-inch trays. Options include wrap-around bumpers, a top rail, and a drain.
Economy Tray Delivery Carts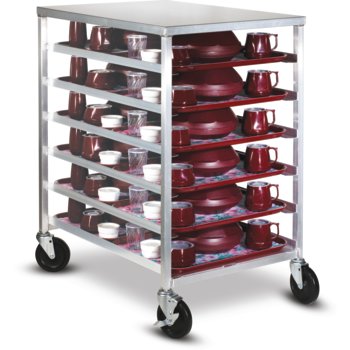 The economy tray delivery carts are not closed or insulated, making them unsuitable for long distance transport. However, they are an economical option for transporting meals short distances. This cart is made of lightweight welded aluminum and is NSF listed. Vinyl covers are available to help protect the food during transport.
Additional Supplies
Having the right heating system and delivery cart is the core of a good healthcare meal delivery system, but the following additional pieces can make your system easier.
With Hospital food it's All About Delivery. Health Leaders. Accessed August 2018.