Trash Cans Buyer's Guide
Trash Cans: Additional Information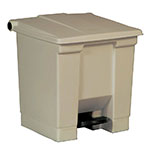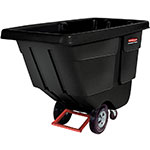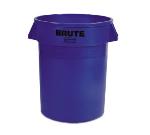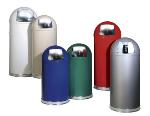 All food service operations have one thing in common, they generate enormous amounts of trash. Trash can come from many different places, customers, staff, and even food products, so trash is an issue that your business will have to face on a daily basis. At KaTom Restaurant Supply, we offer a vast array of trash receptacles to choose from. Utility trash cans and decorative trash cans can be found in this section. All of the trash cans offered through KaTom Restaurant Supply are manufactured by our premier manufacturers Rubbermaid, Waymar Industries, and more.
Utility trash cans
are typically a more rugged type of trash can that is designed to withstand repeated use. These units are available in either indoor or outdoor varieties. Utility type trash cans are available in capacities ranging from 8-95 gallons, allowing you to choose the perfect sized trash can to fit the needs of your business. These trash cans range in height from 17.13 up to 45.6 inches, and have either tilt truck or roll out options.
Decorative trash cans
are generally a more elegant looking trash receptacle that is capable of fitting in with any type of decor. These units are available in indoor or outdoor varieties, with capacities ranging from 5-65 gallons. Decorative trash cans can be purchased in height from 15-49.25 inches.
Many of our customers choose to purchase these items in bulk quantities because of shipping regulations of bulky products.  Often, customers will end up paying more for shipping than for the actual product purchased if a small order is placed.  However, we encourage you to purchase commercial trash cans in any volume your business requires.  Also, purchases over 44 gallons are required to ship via freight truck.