So You Want To Start A Cereal Bar Business...
Sometimes our palates crave the simplicity of the familiar. It is when we yearn for these old favorites that the Cereal Bar rules. Cereal bars (also known as cereal cafes) have been popping up everywhere from Boulder Colorado to right here in eastern Tennessee and are offering the comforts of cereal to everyone from early commuters to late night snackees. If you are simply head over heels with cereal, the cereal bar is a fantastic place to be!
Have you begun considering opening your own cereal cafe? If you have, you may be surprised how much work it takes to make this fun concept a successful reality. Thankfully, KaTom is here with a few tips on opening your own cereal cafe.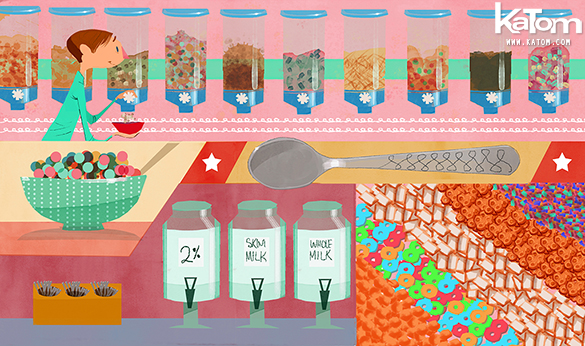 KaTom Restaurant Supply has a great selection of equipment for your cereal bar needs! KaTom carries everything from compact refrigeration to milk dispensers and cereal dispensers. Don't wait; supply your cereal bar with KaTom today!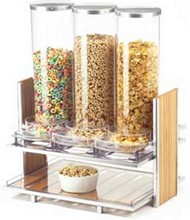 Equip Your Establishment
Sure, you can dress your cereal bar business to the nines with eye pleasing decor but what's the point if you don't have the correct equipment to serve guests? Take into consideration what you plan to serve in your cereal cafe: cereal, right? Cereal dispensers come in handy for quick dispensing the customer's favorite breakfast bites. Where will you be storing the milk/soy milk for the cereal? You're sure to need commercial refrigeration as well as a milk dispenser just for the milk.
The simple fact is that most cereal bars also offer several topping options as well as a variety of other breakfast items, including but not limited to bubble tea, pop tarts, oatmeal, and fruit. The following is a list of supplies that are sure to come in handy for your cereal cafe:
These items are sure to give your cereal bar a head start!

Will you Franchise?

Yes, even cereal bars have franchise options. Starting a franchise can be easier than single handedly crafting your own business but it doesn't come without cost. We've created a chart showing the two main cereal bar franchises as well as their average costs.





If you've decided to do-it-yourself instead be sure to put a lot of thought into your business's layout/design. Most cereal cafe's take a page out of the coffee cafe's book and opt for dressing their business with very comfortable seating. The reason for this can be quite obvious. If your guests are comfortable munching on their favorite cereal, they're more likely to hang around your establishment as well as bring a few friends along. KaTom thankfully carries several modern furniture pieces that are comfortable to "hang out" in.





Location!

If you want to do well with your cereal bar business, you'll first need to put yourself in an easily visible location. The logic behind this is that most people will not be searching for a cereal bar…at first. Curiosity will draw customers into your business and eventually turn them into regulars (if they like what they see/taste).

Great locations for cereal bars include shop locations near school campuses, busy down town areas, as well as locations near Main Street. If you're looking to serve only healthy options, consider placing your business near a fitness center. You'll receive a lot of business from hungry folks who are looking for a low calorie bite.

Permits & Licensing

Like with all small businesses, you will need to obtain an employer identification number (EIN) as well as additional licensing, depending on your state, county, and city. Be sure to review the following site to find the permits and licensing your business will need.


http://www.sba.gov/licenses-and-permits