Drop-in Refrigeration Buyers' Guide

Drop-in refrigeration units, which are often called drop-in coolers, can be installed into existing countertops to keep food, drinks, and ingredients at safe temperatures. There are four different types of drop-in cooler, including models that can be used for serving foods like salads and fruit on a buffet, displaying grab-and-go items that need to remain chilled, and preserving ingredients and prepared food at service counters. This guide will help you decide which drop-in refrigerator is right for you.
Ice-cooled Drop-ins
Ice-cooled drop-in units, also called ice wells, rely on ice to chill products and have no actual refrigeration components. These can be used to display pre-chilled, prepackaged drinks and snacks like bottled drinks and sliced fruit or yogurt. Drop-in chillers are a relatively easy and flexible option for merchandising items because they only require a cutout for installation and do not rely on an electrical outlet for operation. Ice-cooled drop-ins usually include a drain or drain cutout in the bottom of the unit so excess water can be removed after each use.
Cold Wall Drop-ins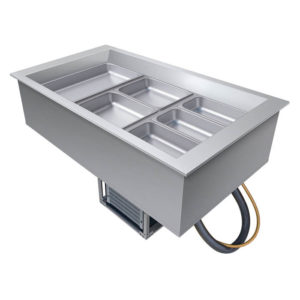 This type is cooled mechanically, rather than by ice, and requires a compatible electrical outlet for installation. As the name suggests, cold-wall units provide short-term cooling through refrigerant tubes running through the walls. They are most often used to keep ingredients stored at safe temperatures and easily accessible in prep and serving lines. Food pans sit inside the well on a recessed shoulder that keeps contents away from ambient air, providing safe and efficient holding during business hours.
For enhanced cold wall cooling, some units use eutectic fluid technology. In these units, which do require an electrical installation with a compatible outlet, food pans don't need to be placed on a recess.
Forced-air Drop-ins
This type of drop-in uses a traditional forced-air refrigeration system to keep items covered in a blanket of consistently cold air. These will require a compatible electrical outlet for installation, as well as adequate ventilation for louvers installed into the cabinets. Like cold-wall units, food pans placed in these units sit on a recess to prevent contents from being exposed to ambient air.
Hot/Cold Buffet Drop-ins
Versatile equipment will allow you to do more with your space in the long run. Foodservice operators with buffet setups often want to update their menus as the seasons change to add more cold or hot items, but find their options limited by a drop-in that can only do hot or cold. Rather than trying to fill a hot drop-in with ice, which will almost certainly damage your unit, you can install hot/cold drop-ins that are designed to handle drastically different temperatures. These will let you enjoy more flexibility in planning your menu and avoid damaging caused by using drop-ins for tasks they're not suited for.