Restaurant Equipment Purchasing Guide

Commercial restaurant equipment can be a huge investment, so it is important to do your research so you can be confident that you are purchasing exactly what you need. Following these seven tips can help you get exactly the pieces you need to help make your foodservice operation a success.
1. Look for the Blue NSF Logo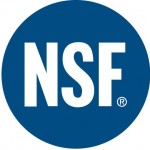 We recommend that the restaurant equipment you purchase should have a blue National Sanitation Foundation (NSF) logo printed somewhere on the product or product packaging. The NSF ensures that the equipment is suitable for use in a commercial kitchen, due to rigorous third-party inspections that ensure the equipment is food-safe and easy to keep clean and sanitized. While not all health codes require that every piece of commercial kitchen equipment be NSF-approved, if you purchase items with the blue seal, you can be sure those items will meet health regulations when they're used according to the manufacturer's guidelines. NSF-approved equipment also helps you make food safety a priority in your kitchen by using only the cleanest, safest designs. Visit our learning center to learn more about the National Sanitation Foundation and why buying NSF-certified restaurant equipment is important.
2. Buy What You Need
Plan out your menu before you begin buying commercial kitchen equipment, then focus on the menu items and purchase only the equipment you need. Don't blow your budget on a full-size oven that you'll only use once a day, and don't hold back on specialty equipment if the potential labor savings and ability to keep up with demand will make the investment worth it. Estimate how much output you will need from each piece of equipment and purchase the appropriate size. Under-sizing will slow down service and anger customers, but buying too large can cost you thousands more than necessary in energy costs over the life of the equipment. Take advantage of the KaTom buyers' guides to help you find the right equipment, and don't hesitate to call and speak with a KaTom equipment specialist at 1-800-541-8683.
3. Learn About Warranties
Before you invest your money in restaurant equipment, check to see how each manufacturer backs up its products. Service calls on non-warrantied equipment are pricey and can add up quickly. Not only that, but any time equipment spends broken down is time it isn't cooking or storing food. If an essential piece of equipment breaks down, it can quickly cost you thousands of dollars in lost revenue. When considering a major equipment purchase, learn about the standard warranty and any extended warranties or service programs the company offers. Pay close attention to what maintenance has to be done regularly and what actions can void the warranty. Keep these factors in mind when comparing prices – it may be worth it to pay more for a piece of equipment with a better warranty.
4. Inspect Equipment When It Arrives
When you receive commercial restaurant equipment that you have purchased, check to make sure that all pieces are there and in working order before signing for the product. Despite the best packaging efforts of the manufacturer and/or distributor and the caution of the transport company, products are sometimes damaged during shipping. When this is the case, it is the transport provider and not the manufacturer or distributor that is responsible for repairing or replacing the damaged unit.
In cases in which concealed damage is noticed after the freight bill is signed, call the transport agent within seven days to request an inspection of the merchandise. Keep all packaging materials and do not remove the damaged item from the premises. Once the inspection is complete, retain a copy of the inspection report and contact the transport provider for information on how to move forward with repairs or replacement. Please note that it is your responsibility as the buyer to make damage claims.
5. Meet All Local Codes
Before purchasing commercial restaurant equipment, you should check all health, fire, and building codes to see the specific requirements of your commercial kitchen. Local codes vary widely across the country, so what is acceptable in one location might be prohibited a few miles down the road. Equipment that can be operated without a vent in some areas has to be placed under a hood in other locations. Partner with your local government to ensure the layout and equipment you are considering is in line with local codes. Violations of these codes could lead to hefty fines or closure and can cost you thousands of dollars as you work to rectify the problem.
6. Know Your Utilities
Be aware of where every utility outlet is in your kitchen and serving area, including water, power, and gas. Depending on the piece of equipment you are considering, you may need to know more details than just the location of each utility. For water, learn the incoming water pressure and temperature. For power, you may need to know how much current draw each circuit can handle and which plugs your outlets are set up for. Learn about the cost and availability of natural gas and propane in your area, and which one your kitchen is set up for. Many of these things can be changed if needed – for example, an electrician can add or change outlets and many companies offer conversion kits between natural gas and propane, but knowing ahead of time which changes you may need can help you plan out your timeline and budget.
7. Consider Long-term Costs
When you purchase restaurant equipment, you should consider the utility costs that will be incurred over the life of the unit. For example, during summer months, ice machines and coolers may have to work harder to stay cool, resulting in more energy usage. Consider purchasing energy-efficient equipment to help lower those utility costs. Also consider the maintenance the unit will need; how much will that maintenance cost, and perhaps more importantly, how much will the repairs cost if that maintenance is neglected? Research the life expectancy of each model you are considering, as it may make more sense to pay a little more for a unit that typically lasts longer than its competition.