Tong Buyers' Guide

Used for flipping burgers, plating pasta, tossing salads, and placing tiny garnishes on fancy entrees, tongs are some of the most versatile and essential restaurant tools in a cook's arsenal. On the surface, tongs are deceptively simple, but if you dive into the world of tongs, you'll discover a versatile collection of specialized tools, ranging from the common salad tong to the rarer snail tong. Use this guide to find the right tool for your kitchen.
Types of Tongs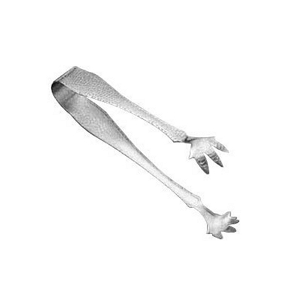 Ice Tongs
Tiny ice tongs serve one purpose: transferring ice from a container to a glass, one piece at a time. These tools are indispensable items in a variety of settings, from hotel rooms to fancy cocktail lounges.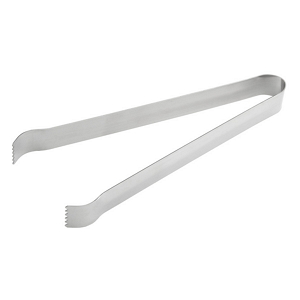 Pom Tongs
Versatile pom tongs have many applications. You'll often find them on salad bars, where they're used to serve salad toppings and delicate produce.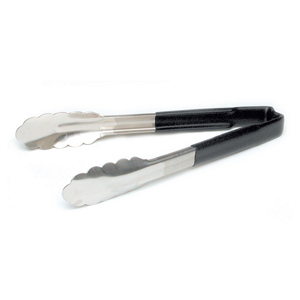 Utility Tongs
As the name suggests, utility tongs are general-purpose grabbers for a number of kitchen tasks. They're great for tossing and plating greens, and grabbing fried and grilled items in a pinch.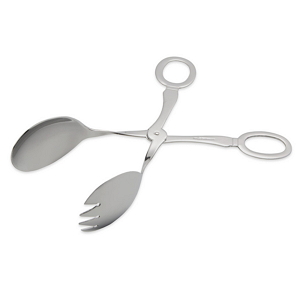 Salad Tongs
Classic salad tongs have a spoon on one side and fork on the other. Use these tools to efficiently transfer salad from a container to a plate.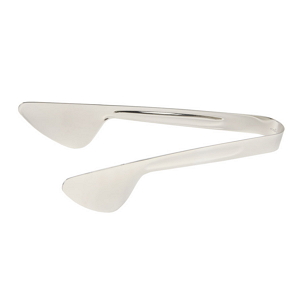 Buffet Tongs
The term "buffet tongs" doesn't have a solid definition, but it usually refers to tongs with a triangular hand that can transfer a variety of items.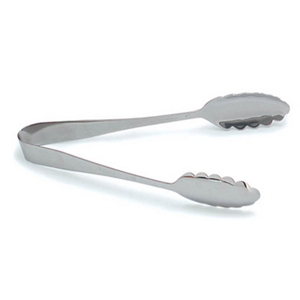 Serving Tongs
Typically sporting a decorative appearance, serving tongs are used to place food directly on customers' plates in banquet and buffet settings. These tongs are available in attractive finishes such as chrome and satin steel.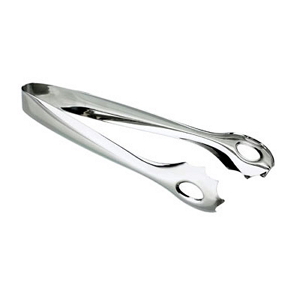 Bar Tongs
Akin to and sometimes synonymous with ice tongs, the term "bar tong" connotes the tool can grab citrus slices and similar garnishes.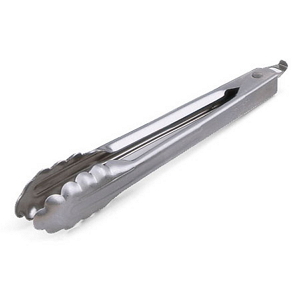 Locking Tongs
Locking tongs are safe and easy to store since they lock and remain closed. They're typically similar to utility tongs in shape and application.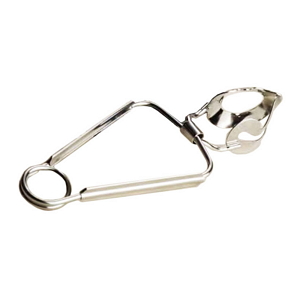 Snail Tongs
Made to serve and hold the eponymous mollusk, snail tongs securely grip a snail shell so that the meat can be removed and enjoyed.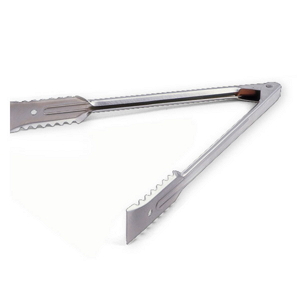 Gripper Tongs
A specialty of Edlund, gripper tongs have square, scalloped hands with flat ends that can separate frozen burger patties that are too difficult to deal with by hand.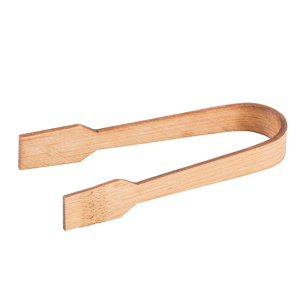 Paddle Tongs
Made of bamboo, flat paddle tongs can be used to serve food in specialty applications where operators seek to create a certain aesthetic. Bamboo tongs add a certain rustic flare when serving appetizers and salad at the table.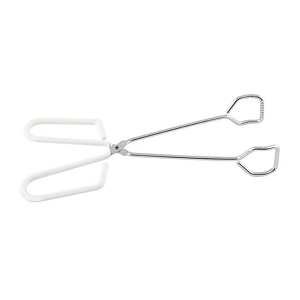 Scissor Tongs
Scissor tongs are suitable for grabbing bulky items such as corn on the cob.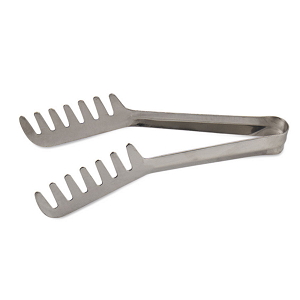 Spaghetti Tongs
Spaghetti tongs, designed to get a good grip on slippery noodles, can take some of the frustration out of plating many different pasta dishes.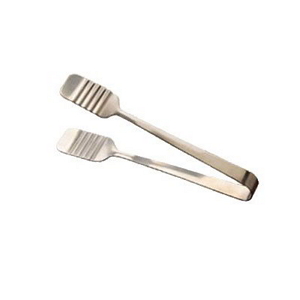 Pastry Tongs
Pastry tongs have flat hands to grip delicate baked treats without damaging their texture or coatings.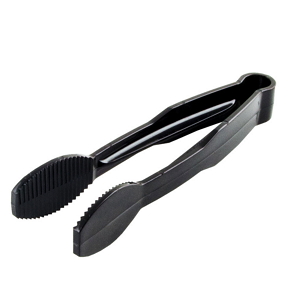 Flat Grip Tongs
Flat grip tongs have flat hands that are very similar to pastry tongs.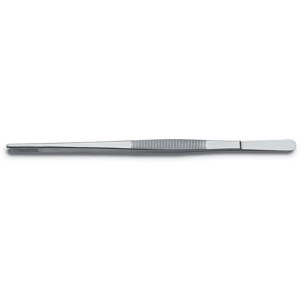 Plating Tongs
These tongs are best used for what their name implie¬¬s: ¬putting food on plates. These tools basically function as oversized tweezers.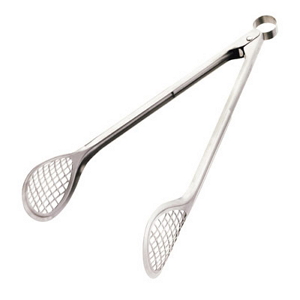 Grill and Fry Tongs
Need a reliable tool for flipping a chargrilled steak on the broiler? What about a set of tongs that can safely pull food from the fryer? These are a couple of the tasks that grill and fry tongs are optimized to perform. These tongs are made with slotted or mesh heads to drain off grease – both to maintain a food's ideal texture and to prevent grease from dripping on staff members' hands.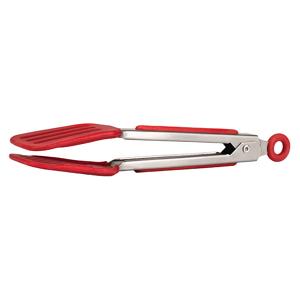 Turner Tongs
Turner tongs combine elements of two essential kitchen tools: turners and tongs. This type of tong has one main purpose – to flip burgers and steaks on grills.
Tong Features
Scalloped edges: Scalloped edges provide a solid grip on items to simplify use.
Color coded: As with many other kitchen tools and utensils, a color-coding system for your tongs can help reduce the risk of cross-contamination between foods, fighting the spread of foodborne illness and protecting customers with food allergies. You may want to designate tongs of specific colors for use with certain food groups. Another way to take advantage of color-coded tongs is to assign certain colors to specific employees or work stations to prevent tongs from being lost or stolen.
Tong holder: Invest in tong holders to keep tongs near their designated areas.
Plastic vs Metal
Plastic tongs are great general-purpose serving pieces. They can usually tolerate cold temperatures and heat as high as 300 degrees Fahrenheit, so they're suitable for serving both hot and cold buffet foods. They don't conduct heat well, so they'll keep staff comfortable and safe when used to serve hot food.
Metal tongs tend to last longer, but they shouldn't be used in hot temperatures for more than a few seconds because they conduct heat and can burn the user. On the other hand, steel tongs are suitable for working with hot food on the grill or range if they will only be in contact with food for a few seconds at a time.