Staub Cocottes Make an Appearance on Martha Stewart with Pastry Chef Mindy Segal
Mindy Segal, number one pastry chef in the Chicago area and owner of the inventive restaurant and dessert bar Hot Chocolate, made an appearance on the Martha Stewart Show accompanied by her guests, 300 Staub mini cocottes. The show, aired on February 25, featured this renowned chef baking "Banana Brioche Monkey Bread in the Staub mini cocotte. Martha Stewart then gave each audience member their own mini cocotte to experiment with.
Staub is putting forth exquisite design and quality products in 50 different countries, and this family owned business doesn't show signs of stopping. Staub has extended their product line to cocottes, Staub tea pots, fondue pots, sauté pans, skillets, presentation dishes, and Staub cast iron accessories. The mini cocottes featured on Martha Stewart are great for individual dishes and desserts. Whether you are cooking for two or just want to spice up the presentation factor at your next party, the Staub mini cocottes are perfect. Want a really sweet deal? Staub mini cocottes along with all of KaTom's Staub collection, are now free shipping.

While the audience members received the black cocottes, Staub offers a multitude of colors fit to decorate and cook, and with colors such as lemon, eggplant, grenadine, and basil, who wouldn't want one in every color? These cast iron experts know how to add style to cookware. Bring the entire Staub collection all the way from France to your home.
The recipe featured on Martha Stewart is a signature dish created by chef Mindy Segal. Any dessert lover will be enthralled and enticed by this sweet twist on an old classic.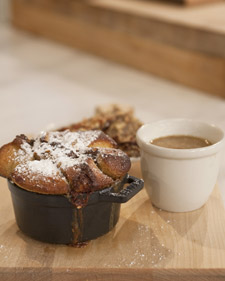 Mindy Segal's Banana Brioche Monkey Bread in a Staub Mini Cocotte
3/4 cup milk
1 tablespoon dry active yeast
7 extra large eggs
1 3/4 cups plus 4 1/3 cups unbleached all-purpose flour
1 ounce honey
2 tablespoons coarse salt
1 cup (2 sticks) unsalted butter, softened, plus melted butter for baking dishes
Nonstick cooking spray, for bowl
Moloko Butterscotch
3 ripe bananas, pureed until smooth
Smoked Almond Toffee Brittle, chopped, plus 6 larger pieces for garnish
1 cup granulated cane sugar
1 tablespoon ground cinnamon
Confectioners' sugar, for dusting
In a small saucepan, heat milk until just warmed through. Transfer to a large bowl and add yeast; stir to combine. Let stand 1 minute until yeast is dissolved. Add 2 eggs and whisk to combine. Add 3/4 cups flour and mix until well combined. Sprinkle remaining 1 cup flour over top of mixture; cover with plastic wrap and let dough stand in a warm place until doubled in volume, about 1 hour.
Transfer dough to the bowl of an electric mixer fitted with the dough hook attachment. Add remaining 5 eggs, granulated sugar, remaining 4 1/3 cups flour, and honey. With the mixer on low, add salt. Mix until dough forms a ball, adding more flour if necessary. Increase speed to medium and mix for about 5 minutes. Reduce speed to low and add butter; mix until fully incorporated.
Lightly coat a medium mixing bowl with nonstick cooking spray and transfer dough to prepared bowl. Cover with plastic wrap and let stand in a warm place until doubled in volume, 1 to 2 hours. Punch dough down and cover again with plastic wrap. Transfer to refrigerator until ready to use, up to 1 week.
In a large bowl, mix together 2 cups butterscotch and pureed bananas. Lightly coat twelve mini Staub cocottes with melted butter; set dishes on a large rimmed baking sheet. Place one tablespoon butterscotch in the bottom of each cocotte. Sprinkle some of the toffee over the butterscotch; set aside.
Divide dough into 12 equal pieces (about 5-ounces each). Working with 1 piece at a time, roll into a 6-inch-long rope using your hands. Cut rope into 8 equal pieces; add to bowl with butterscotch mixture and toss to coat. Transfer dough pieces to a prepared baking dish; repeat process with remaining pieces of dough. Sprinkle each Staub cocotte filled with dough with more toffee. Cover with plastic wrap and let stand in a warm place until spongy, about 1 hour.
Preheat oven to 350 degrees. In a small bowl, mix together granulated cane sugar and cinnamon. Brush tops of dough with butterscotch mixture and sprinkle with cinnamon-sugar; top with remaining chopped toffee. Transfer to oven and bake, rotating halfway through baking, until golden and firm to the touch, about 30 minutes. Dust with confectioners' sugar and garnish with large toffee pieces. Serve immediately with remaining butterscotch, for dipping.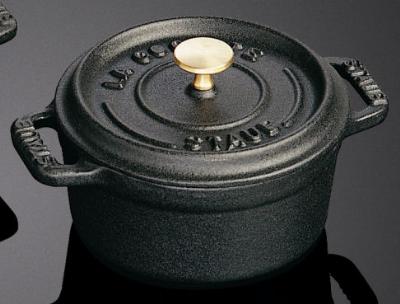 *The mini black cocotte Martha Stewart gave to her viewers
KaTom wants to know how you are using your mini Staub cocotte. Leave us your ideas, recipes, and comments!