Ice Cream Freezer & Dipping Cabinet
You're sure to find the ice cream freezer you need for your soda shop or restaurant at KaTom. KaTom carries many brands of ice cream freezers. Our horizontal cabinets, visual cabinets, and ice cream dipping stations come in various capacities to meet your needs. Many of our ice cream dipping cabinets come with glass or acrylic lids that allow guests to view the product, making for a better experience. Receive the free shipping that comes with many of our ice cream freezers by ordering today!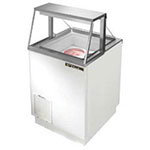 Show your customers just how great your ice cream is with a dipping cabinet from KaTom! Our ice cream cabinets come in several capacity sizes for 4 to 28 flavors at a time. Choose from many of our dipping cabinets that are aesthetically pleasing and built to last! You're sure to enjoy the free shipping that comes with the purchase of many of our dipping cabinets. Order your ice cream cabinets from KaTom and save money with our fantastic pricing!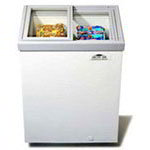 Do you need more freezer space? Our commercial horizontal freezers come at capacities perfect for small businesses as well as heavy duty operations. Choose from our commercial horizontal freezers with sliding glass lids, solid hinged lids, and temperature controls for accurate freezing. You'll be pleased to see the money you'll save when buying one of our many commercial horizontal freezers that come with free shipping.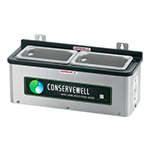 When business picks up in your ice cream shop you may find yourself spending time cleaning your dippers and spades. Save time and effort by buying one of our quality dipper stations! Our dipper stations work by using a continuous water flow in individual wells to expertly clean your ice cream tools. These models also feature heavy duty basins, sound deadening bumpers, and quality construction. Order the dipper stations you need with KaTom Restaurant Supply!