Commercial Mixer
Using any old commercial mixer to make cake batter can be an easy task but when you need to create large quantities within a certain time frame…Well that's a horse of a different color. For booming bakery business' a commercial mixer with a high capacity threshold is a must! Whipping up large batches of dough or batter with one of our high horse power commercial mixers can greatly increase production and save you precious time. Browse through KaTom's trusted brands of commercial mixers today!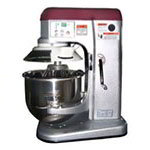 Countertop planetary mixers are ideal for bakeries, restaurants, and school kitchens. Planetary mixers are fully gear operated which make for extremely high mixing speeds and consistent output. Our selection of planetary mixers will fit nicely on your countertop and will not take up much needed space. Find a reliable countertop planetary mixer for your establishment now!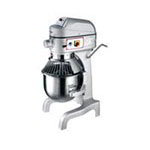 A floor mixer is a solitary unit designed to mix large amounts at one time. A commercial floor mixer is perfect for a busy bakery, restaurant, or cafeteria. Most floor mixers can be classified in for either all-purpose use or specifically for doughs. Every commercial kitchen should have a floor mixer to help ease the food preparation process. Find the right floor mixer for your business today!