Food Prep Table
KaTom's variety of food prep tables are perfect for pizza parlors to even sub shops! Our food prep tables come in small sizes to large sizes with multiple doors and are constructed of sturdy stainless steel. With the added benefit of having all of your ingredients in one place, food preparation time is greatly reduced making it easier to keep up with orders. Save money by saving time with a food prep table from KaTom Restaurant Supply!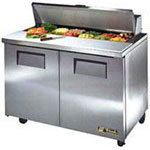 For efficient sandwich prep tables at great prices look no further! Choose from our wide selection of quality sandwich prep tables from the brands you trust. Using a sandwich prep table in your restaurant or catering business greatly reduced the time used due to better ingredient organization and accessibility. Our salad prep tables come with durable construction and various capacities. Our knowledgeable customer service can aid you in choosing the salad prep table for your business.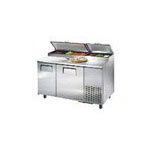 Do you need a quality pizza prep table for your pizzeria but are discouraged by the prices? Many of our pizza prep tables have the low pricing and free shipping you're business's budget will love! Our pizza prep tables feature stainless steel construction and full length cutting boards. Does your deli shop need extra storage and space to build orders? Our deli prep tables come in a variety of sizes and make getting your ingredients together easy. Order a deli prep table for your business today!