Trash Cans & Accessories
Show your garbage who's boss with quality trash cans and accessories from KaTom Restaurant Supply. KaTom carries affordable trash cans and accessories that are durable for heavy duty use. Need a more stylish, eye friendly garbage solution? KaTom also carries trash cans and accessories that have a decorative appearance making them perfect for hotel lobbies, restaurants, and more. Order the trash cans and accessories your establishment needs today with KaTom!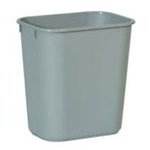 No matter what your business is about you're sure to produce some sort of garbage or waste at the end of the day. Dispose of your garbage in a trash can from KaTom Restaurant Supply! KaTom's selection of trash cans come in a variety of different styles and uses so you're sure to find the trash cans perfect for your establishment. Trash cans from KaTom are affordably priced with you in mind! Order the trash cans your business needs with KaTom today!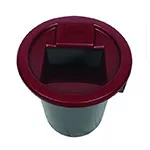 It goes without saying that you have garbage receptacles inside of your business. Why not make your existing trash cans even better with trash can accessories from KaTom? KaTom Restaurant Supply sells the best in trash can accessories like bags for the garbage, caddies that are perfect for janitors, and even dollies! Order all of the helpful trash can accessories your existing garbage receptacles need with KaTom!