Restaurant Tables
Whether you own a pub, coffee shop, or full service restaurant, there are many styles of restaurant tables to choose from. We have high-tops, bar and pub tables, café tables, dining room tables and more. Choose from pedestal bases, those with legs and different laminate colors to enhance your décor.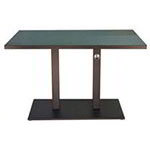 Dining room tables come in all shapes and colors and can be purchased in sizes from two-tops to those that accommodate large parties. Pedestal tables give you the flexibility to vary the number of customers, while rectangular tables can have bases that are supported with two feet, four feet or four legs. Consider whether you will be using tablecloths or placemats when you choose table tops—they can be colorful laminate, sturdy steel, or cast aluminum.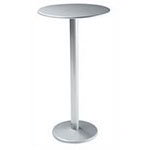 If you need a pedestal-style pub table for your deli, bakery or bar, we have a wide selection of 24- and 36-inch tables in different finishes and heights. High top tables are great for parties and mixers and café tables save space and are easy to move around to create different seating arrangements.