Anti-Fatigue Floor Mat
Standing on a hard floor for hours on end can really put a kink in your employees lower back and legs. Give your employees a more comfortable working area with helpful anti-fatigue floor mats. These anti fatigue mats ease tension in the feet and legs, making for a more productive worker. KaTom carries anti-fatigue floor mats for wet and dry areas. Choose the anti fatigue mats your restaurant or cash register area needs today with KaTom Restaurant Supply!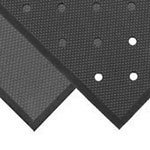 Tired workers result in less than perfect work. Keep your employees feet a little more comfortable with commercial floor mats from KaTom Restaurant Supply. When your employees walk on antifatigue floor mats instead of a hard floor their feet will hurt less after sustained standing. Less fatigue means better work! Order the commercial floor mats and antifatigue floor mats your dry kitchen areas need today to save on KaTom's low pricing.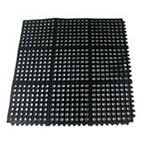 Wet floors result in slipping and falling. Keep your employees on steady ground with rubber floor mats in your wet areas. A rubber floor mat will increase friction in slippery areas. KaTom carries more than just safety mats though. Anti-fatigue kitchen mats for wet areas help to cushion feet, making for a more productive and comfortable employee. Choose the rubber floor mat or anti-fatigue kitchen mat your restaurant needs today with KaTom.