Cart
Using a cart to transport ingredients for preparation can save time. From small, one-level utility models to large food prep models that can hold up to 300 pounds, we carry many different sizes and types. We also offer accessories for these units, such as covers and bins.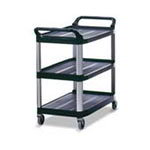 A utility cart is one of the most versatile pieces of equipment in a restaurant. From moving ingredients and containers to transporting tablecloths and dishes, these are a valuable part of your establishment. We offer hundreds of different versions to best suit your needs. These include janitor carts, platform trucks, housekeeping carts, tractor carts, and correctional tray delivery carts. The largest carts we offer have a capacity of 2000 pounds.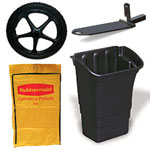 If you want to use your utility cart as part of your bussing routine, then you need cart accessories such as a cart refuse bin or a cart silverware bin. Both of these items will make bussing that much easier. We carry both of those items, as well as covers to keep your cart clean while not in use.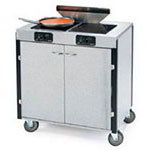 A food prep cart is a very useful kitchen item. These make it easy to transport food throughout your kitchen, back and forth to the dish room and out to the dining room. Moving ingredients from your prep area to the line is much easier with one of these. We offer several different kinds, from models designed to hold racks, units with bowl stands, and kitchen trolleys.