Cart
Using a cart to transport ingredients for preparation or utilities can save time otherwise spent on manual transportation. KaTom Restaurant Supply carries carts of all sizes and types for your establishment's needs. Our carts come in several sizes and differing capacity amounts. Find the unit your restaurant or catering business needs with KaTom today. Don't hesitate to call our helpful customer service for additional information on the perfect cart for your business!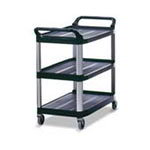 Sometimes we need help transporting goods like ingredients, containers, and other items. Utility carts are perfect for these moments! Here at KaTom Restaurant Supply we carry utility carts with or without shelving. Need a heavy duty unit? No problem! We sell utility carts for carrying up to 2000 pounds at a time! Not only do we have units to meet your every weight capacity need we also carry them in a variety of eye pleasing colors for your choosing.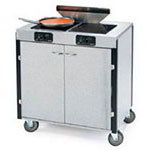 Order a few quality food prep carts from KaTom Restaurant Supply! The food prep carts we carry come in capacity sizes ranging from 175 to 300 pounds. Because our food prep carts are mobile they make it easy to transport your foods to other parts of the restaurant! Some of our units even feature helpful, built in cutting boards! Buy the end loading or side loading food prep cart you need to keep things running smoothly at KaTom!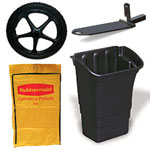 Make your existing cart model even more helpful by adding cart accessories! KaTom Restaurant Supply carries cart accessories like silverware bins that further optimize your cart. We even carry cart accessories like garbage bins that make cleaning up a breeze! You'll love KaTom's affordable accessory pricing and fantastic customer service. Order today to experience the KaTom difference for yourself!