Pan / Can Rack
Are you in the market for additional supply storage? Look no further than KaTom Restaurant Supply's great selection of restaurant can racks and pan racks! KaTom Supply carries restaurant can racks that accept several different sizes of cans so no matter your needs, you're sure to find the perfect rack! KaTom also sells a wide variety of pan racks. Feel free to browse KaTom Supply for the restaurant pan racks and can racks you need today!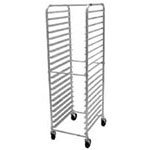 Make your bakery's storage a breeze with one of KaTom Restaurant Supply's quality commercial pan racks! We carry commercial pan racks with capacity sizes for as little as seven pans to as much as forty pans. Do you need an end loading, side loading, or front loading commercial pan rack? No worries, we have those as well! Choose from our large selection to find the racks that are perfect for your bakery or catering business!
Keeping your cans organized and finding a shelf strong enough for the larger cans you stock can be a hassle! For the durability your store room needs look no further than KaTom Restaurant Supply! We carry commercial can racks that can hold both #5 and #10 cans with ease. No matter the amount of slides you need or your pricing limitations KaTom is sure to have a perfect commercial can rack for your establishment. Order a commercial can rack at our great KaTom prices today!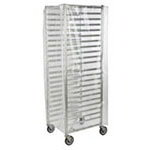 Working in a catering business or large scale restaurant can mean transporting large amounts of food to different locations. Keep those pan racks covered and ready for take off with commercial rack covers from KaTom Restaurant Supply. Our commercial rack covers come in clear or colored to match with flame resistance for your convenience! Order the commercial rack covers your catering business needs and experience our affordable KaTom pricing today!