Pan / Can Rack
Pan racks and can racks are good ways to store items in your restaurants. A variety of models are available, from small, portable models that are perfect for working on the kitchen line to larger models that are a good fit for storing food in pantries. No matter the need, we have a model that can help.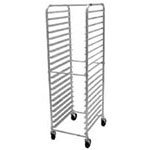 Providing efficient storage and cooling space for baked or cooked items, pan racks are a must have for bakeries, cafeterias, hotels, banquet halls and other high volume operations. Able to accommodate multiple full and half size baking sheets, cooking pans and more, these racks can be stationary or have wheels for portability. Constructed of heavy duty materials such as aluminum or stainless steel they can have an open design to allow cooling or can be enclosed with doors to protect food during transport.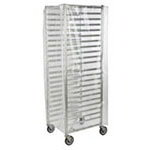 Pan rack covers can be used with open racks to provide protection to food during cooling, storage or transport. Made of materials such as clear vinyl, polyester and PVC, they may include zipper openings for easy access to product. Specialty covers are insulated to keep heat in or designed for use with units that will be stored in freezers. Designed to prevent dehydration and preserve freshness of goods, they are an important accessory for bakeries, cafeterias, catering, schools or other high volume kitchens.
Keep all your canned items organized and easy to access with a heavy duty can rack. Constructed of durable and lightweight aluminum, these racks can be stationary or mobile for flexible storage. Made to fit #5 and #10 standard size cans, new cans can be loaded into the back of the rack and slide forward to the front when unloaded, so that older stock is used first, ensuring efficient rotation of inventory. These units can hold up to 162 #10 size cans or 216 #5 size cans to offer plenty of storage for even the busiest establishments.