Deli & Display Case
Many times the first thing you see when you walk into a grocery store or deli are display cases. Make sure the deli cases and display cases in your business are presentable by purchasing attractive yet effective deli cases from KaTom. No matter if your foods need refrigeration or not we have display cases for any use. Browse through our deli cases and display cases for your food establishment with KaTom Restaurant Supply.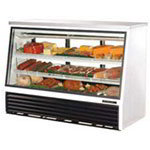 Most meats in delis need to be kept in a constant cold state. Keep your deli meats and other perishables frigid with a refrigerated deli case from KaTom Restaurant Supply! Our refrigerated deli cases come in many sizes! For an attractive way to show off your product one of KaTom's refrigerated display cases is the way to go. Buy your refrigerated deli case or refrigerated display case today and experience the raising sales!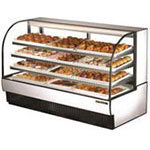 As a food business you have to portray your foods in the most aesthetically pleasing way you can manage. Make your job of advertising your baked breads and pastries easier with a non refrigerated display case from KaTom! Our non refrigerated display cases come with pleasant curved glass fronts that make viewing your products a piece of cake. Sandwich shops love storing foods in our non refrigerated deli cases that offer good looks as well as functionability.