Thermometer
Thermometers are not only handy tools to have in every kitchen, they are often required by local health departments. A thermometer guarantees food safety and will determine the doneness of your meal. Food thermometers can be used to check both hot and cold food. KaTom offers a wide selection of digital and dial thermometers for a variety of uses. Find all the food thermometers you need in your kitchen here!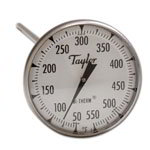 Food safety is key in any successful restaurant. Use a cooking thermometer when preparing the food in your restaurant or business to insure the safest food temperatures before serving your customers. Cooking thermometers come in variety of shapes and sizes to suit your cooking needs. We carry cooking thermometers for every type of food you prepare. Whether you are making candy or frying chicken, we have the cooking thermometer for you. Find the cooking thermometer right for your business here!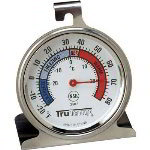 To insure the safety of all your cold or frozen foods use a refrigeration thermometer in your restaurant or business. Having the appropriate temperatures in your refrigerator will guarantee fresh and delicious food in your restaurant's kitchen. KaTom offers a variety of refrigeration thermometers in many shapes and sizes to fit your refrigerator requirements. Find the right refrigeration thermometer for your kitchen's refrigerator now!