Thermometer
Nothing is more important to food quality and safety than proper temperature. Thermometers provide the means for ensuring foods stay at safe temperatures and are a critical part of any health and safety inspection report. Ensure that your food is fully cooked and guarantee safe storage temperatures. KaTom offers hundreds of cooking, refrigeration, pocket, digital, analog, and probe thermometers to meet your kitchen's needs.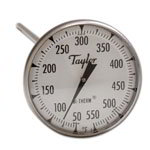 Food safety is key in any successful restaurant. Use a cooking thermometer when preparing the food in your restaurant or business to insure the safest food temperatures before serving your customers. Cooking thermometers come in variety of shapes and sizes to suit your cooking needs. We carry cooking thermometers for every type of food you prepare. Whether you are making candy or frying chicken, we have the cooking thermometer for you. Find the cooking thermometer right for your business here!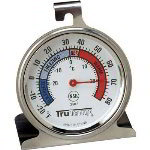 To insure the safety of all your cold or frozen foods use a refrigeration thermometer in your restaurant or business. Having the appropriate temperatures in your refrigerator will guarantee fresh and delicious food in your restaurant's kitchen. KaTom offers a variety of refrigeration thermometers in many shapes and sizes to fit your refrigerator requirements. Find the right refrigeration thermometer for your kitchen's refrigerator now!