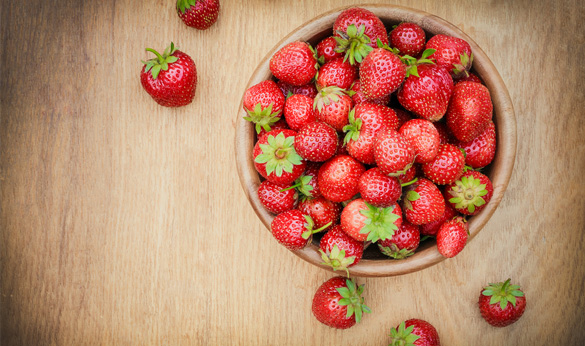 Refresh with Cool Strawberry Soup
This cool strawberry soup is an adaptation of a traditional Polish soup called Zupa Truskawkowy. This soup was eaten cold by Polish farmers who needed something to both fill and rehydrate. Our version is lightly sweet and is suggested to be severed cold, but can also be eaten warm.
Strawberry Soup
Adapted from Barbara Rolek's recipe
Serves: 4-6
Ingredients:
3 cups sliced strawberries
6 cups water
1/2 tsp. ground cinnamon
1/4 vanilla bean
1/2 cup heavy cream
2 tsp. corn starch
3-5 tbsp. honey (or to taste)
Optional: sliced strawberries and whipped cream for garnish
Directions:
Add strawberries, water, vanilla bean, and cinnamon to a stock pot. Bring to a boil, reduce heat, and simmer for about 7 minutes, or until strawberries are soft. Remove from heat and discard vanilla bean. Using an immersion blender, blend until smooth. Add the heavy cream to a small bowl and add a couple spoonfuls of the hot strawberry mixture to the cream, stirring continuously. Whisk the cornstarch into the cream mixture. Whisk the cream/cornstarch mixture into the strawberry purée and mix in the honey to taste. Bring the stock pot back to a boil and immediately lower the heat to a simmer for 2-4 minutes, stirring continuously. Let cool and refrigerate overnight. Optional: top with whipped cream and sliced strawberries.