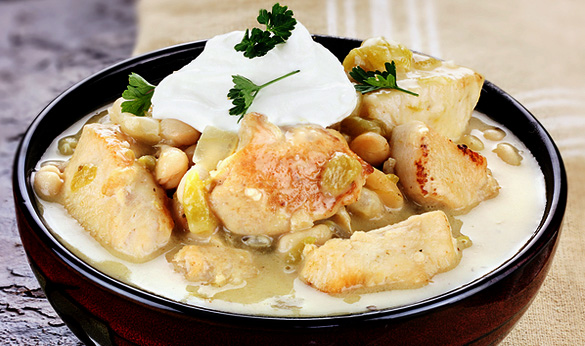 Paula's Super Bowl White Chicken Chili
This white chicken chili recipe is delicious, creamy, and slightly spicy. The whole milk and fresh jalpeños increases the spiciness and flavor profile.
Adapted from Epicurious
Serves: 4-6
Instructions:
1/2 lb. dried navy beans, picked over
1 large onion, chopped
1 stick (1/2 cup) unsalted butter
1/4 cup all-purpose flour
1-1/2 cup chicken broth
1-1/4 cups whole milk
2 tsp. Tabasco, or to taste
3 tsp. chili powder
3 tsp. ground cumin
Salt and pepper, to taste
(2) 4-oz. cans whole mild green chilies, drained and chopped
5 boneless skinless chicken breast halves (about 2 lb.), poached in chicken stock then shredded
1-1/2 cups grated Monterey Jack (about 6 oz.)
2 fresh jalapeños, seeded and sliced, divided
Garnishes: cilantro leaves, sour cream, additional Monterey Jack cheese and jalapeño slices
Directions:
In a large pot, soak beans in cold water overnight. Drain beans and return to kettle. With cold water, cover beans with 2 inches of water and cook beans at a simmer until tender, about 1 hour, and drain.
In a skillet, cook onion in 2 tablespoons butter over moderate heat until softened.
In a 6-8 quart heavy pot melt the remaining 6 tablespoons butter over moderately low heat and whisk in flour. Cook, whisking constantly, about 3 minutes. Stir in onion and gradually add broth and half-and-half, whisking constantly.
Bring mixture to a boil and reduce to a simmer. Cook for 5 minutes, or until thickened, stirring occasionally. Stir in Tabasco, chili powder, cumin, salt, and pepper. Add beans, chilies, most of the chicken and sliced jalapeño. Add ladles of the chicken stock in until it reaches the desired consistency. Add the Monterey Jack and cook mixture over moderately low heat, stirring, 20 minutes.
Garnish chili with any or all of the following: cilantro leaves, sour cream, Monterrey Jack and jalapeño slices