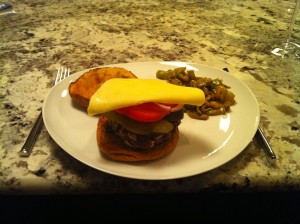 In between the torrential downpour of rain we've been experiencing, the sun conveniently decided to show his face one Saturday afternoon on my day off! To celebrate my husband and I fired up the charcoal grill, brought the baby into the unusually warm fall air, and opened Jamie Oliver's Food Revolution to find a great idea for dinner! The International Food Revolution continues and this week's recipe is "A Crackling Burger!"
The Ingredients:
12 cream or plain crackers, such as Jacob's
8 sprigs of fresh Italian parsley
2 heaped teaspoons Dijon mustard
1 pound good-quality ground beef
1 large egg, preferably free-range or organic
Sea salt and freshly ground black pepper
1 romaine or butterhead lettuce
3 tomatoes
1 red onion
3 or 4 pickles
6 burger buns
Slices of cheddar cheese
To Make Your Burger
Wrap the crackers in a kitchen towel and smash up until fine, breaking up any big bits with your hands, and put them into a large bowl. Finely chop the parsley, including the stalks. Add the parsley, mustard, and ground beef to the bowl. Crack in the egg and add a good pinch of salt and pepper. With clean hands, scrunch and mix everything up well. Divide into 6 and pat and mold each piece into a roundish shape about 3/4 inch thick. Drizzle the burgers with oil, put on a plate, cover and place in the refrigerator until needed (this helps them to firm up).
To Cook Your Burger
Preheat a large grill pan or frying pan for about 4 minutes on a high heat. Turn the heat down to medium. Place the burgers on the grill pan or in the frying pan and use a turner to lightly press down on them, making sure the burger is in full contact. Cook them to your liking for 3 or 4 minutes on each side — you may need to cook them in two batches.
To Serve Your Burger
Wash and dry a few small lettuce leaves, tearing up the larger ones. Slice the tomatoes. Peel and finely slice the red onion. Slice the pickles lengthways as thinly as you can. Place all this on a platter and put in the middle of the table with plates, cutlery, ketchup, and drinks. Remove your burgers to another plate and carefully wipe your frying pan or grill pan clean with paper towels. Halve your burger buns and lightly toast them on the grill pan or in the frying pan. Also great with a chopped salad!
Toppings we used:
provolone
cheese
sliced pickles
tomato slices
lettuce
Our Experience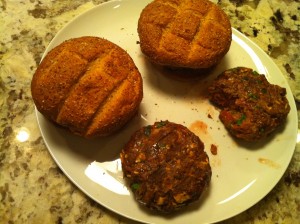 We Followed this recipe exactly with the exception of using provolone cheese instead of cheddar. we found this toppings to be very important so don't leave them off. For the crackers, we used Carr's since they are readily available in our local grocery store.
John's Review
Absolutely loved the recipe; it was extremely easy to prepare and cook - it looked great, and tasted fantastic. Plus I got to try out my new grill tongs! The toppings we had on the burger definitely helped the flavorings and we could have perhaps added a little more mustard. I would definitely enjoy making this again.
Ease of cooking - 9/10
Appearance - 8/10
Taste - 8/10
Paula's Review
I REALLY like blue cheese so I personally prefer a burger with Roquefort, but this would be my second favorite burger. I also usually serve burgers with caramelized onions and sautéed mushrooms which we didn't have this time because we wanted to actually follow the recipe. Next time I would add those back, but if I am ever in a rush it was delicious without. I would definitely add blue cheese into the burgers next time, but I have to say I really enjoyed the cracker addition!
Ease of cooking - 9
Appearance - 8
Taste - 7

Ken & Sue's Experience

Sue the cook

Very easy to prepare and not too many ingredients. I used the grill on the oven and didn't put the grill pan near enough to the heat for the 4mins before cooking the burgers so didn't get the brown ridges on the burgers as shown in the photo.Really enjoyed the taste texture and appearance - I'll give it 8/10; a good party dish.

Grandma

Very enjoyable but would have liked more seasoning in the burger and would have liked onions mixed in-8/10.

KenI have never been a big fan of burgers as food - it has been a case of them being associated with leisure times. When I have enjoyed burgers it has usually been the additional food which I have eaten with it that I found made the dish: onions (fried or raw), mushrooms, and mustard or sauces, etc. The best burgers I have ever had were at River Place, Greenville. These are next after those at River Place. They were firm but not dry; the texture was excellent, and the taste good although a little bland (perhaps more so for me because the cook cuts seasoning down to a minimum whereas I like my food salted and seasoned). I think the recipe would provide a good base to develop with more seasoning and/or cooked onions, cheese, and other variations. These burgers would be an excellent meal for a casual party, summer or winter.