One Pan Show: A Quick & Easy Dinner Recipe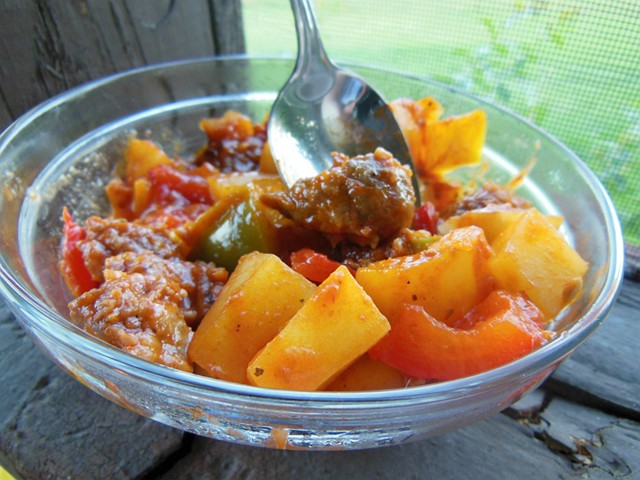 Quite a few of the recipes I post require dirtying up a few of pieces of cookware, mixing bowls, and bakeware. If you're anything like me, sometimes you just don't want to spend that much time cleaning up after your meal. What's a girl to do in this world of complicated culinary madness?
It's times like these that a one skillet meal really does the trick. This recipe is anything but difficult and requires only a cast iron skillet, a cutting board, a sharp knife, and a serving spoon. Not bad, right? I chose to use tri-colored bell peppers for this recipe; once cooked they turn into juicy morsels that are just bursting with flavor from the sauce and sausage. The best thing about this recipe is that it doesn't take long to make at all! Within 45 minutes you'll have a bubbling, delicious Italian Sausage Potato Skillet meal that just begs to be eaten with corn bread or honey hoe cakes.
Italian Sausage Potato Skillet
What You'll Need:
Vegetable oil
2 cloves of garlic, minced
1 large onion, diced
¾ lb. Italian sausage, cut into bite size pieces
3 medium potatoes, peeled and cut into 1 inch pieces
3 bell peppers, cut into 1 inch squares
¼ teaspoon ground oregano
1 bay leaf
2 cups organic tomato sauce
Salt and Pepper
Cutting board
Lodge cast iron skillet
Sharp knife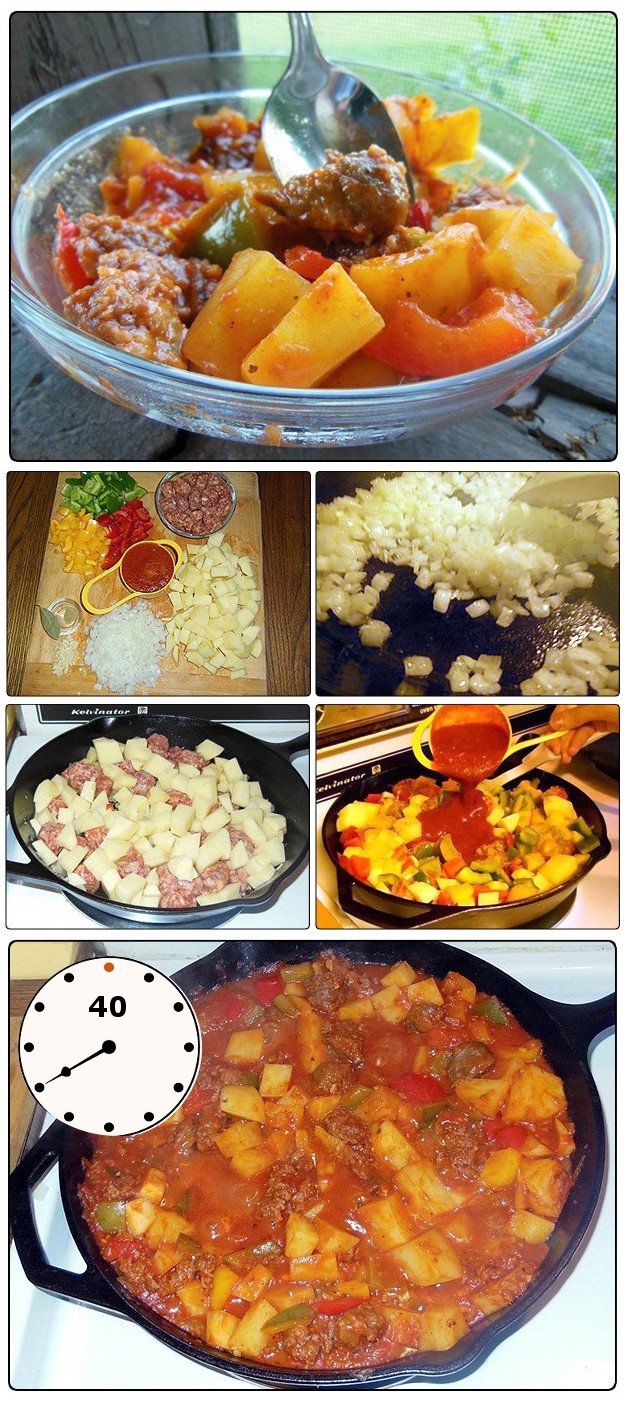 Instructions:
Heat oil in in a cast iron skillet over medium heat.
Add onion and garlic to the pan.
Cook the onion and garlic until golden.
Add the Italian sausage, potatoes, and peppers to the skillet.
Add the oregano, bay leaf, salt, pepper, and tomato sauce to the skillet.
Mix well.
Cover and cook for 40-50 minutes (or until the potatoes are tender), stirring occasionally.
Enjoy!
This recipe just proves that to eat well you don't have to slave away in the kitchen, dirtying up all of your wares. Much like pasta, the leftovers for this one skillet dish are even better the next day. Next time you're strapped for time try this recipe; if you don't, you're missing out on all of the flavor that could be!
Until Next Week,
-
Heather ;)
Music used: "Remember The Name" by Jay Sinkie