No More Fat-Saturated French Fries: 3 Guilt Free Fry Recipes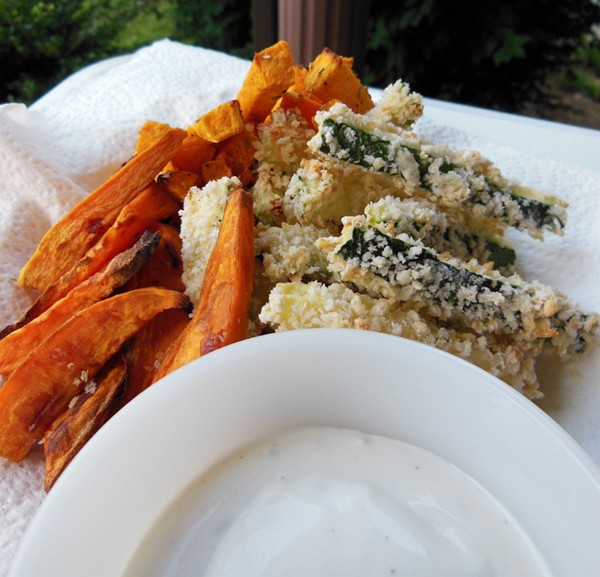 It may just be me but have any of you guys noticed a sort of "health food craze coming along? Everyone I know has been working to cut the fat, sugar, gluten, and processed foods from their diets, replacing them with homemade goodies. Always a trooper (or at least I like to think so where food is concerned), I'm more than happy to dive deep into this food culture phenomenon.
Eating healthier doesn't have to taste horrible. Many have already adopted great entree cooking habits (baking instead of pan frying, using herbs and seasonings to flavor instead of fats) but a few are stumped when it comes to side dishes. With Memorial Day knocking at the door you already know you can substitute beef for ground turkey or even make black-bean burgers (for our vegetarian friends out there). But what about the sides? What is a burger without fries?
Fries are amazing but a small serving can add 271 calories to your meal! Sadly, pairing anything else with the burger can be disappointing (chips...c'mon, REALLY???)
That's why I'm bringing you Not one
Not two
But THREE HEALTHIER alternatives to traditional fried French Fries. These can be all be baked at the same time, in the same oven, so don't try just one recipe! I promise they're just as delicious as regular fries, if not more so!

Sweet Potato Fries
What You'll Need:
1 tablespoon olive oil
1 teaspoon cumin
Dash of cayenne pepper
3 large sweet potatoes cut into wedges
¼ teaspoon paprika
½ teaspoon kosher salt
Instructions for Sweet Potato Fries
Cut the sweet potatoes into wedges with a sharp knife.
Toss them in the oil, cumin, pepper, paprika, and salt.
Bake in a 400 degree oven on a sheet pan & a COOLING RACK for 15 minutes.
Flip the wedges.
Bake for another 15 minutes or until the fries are done.
Enjoy!

Butternut Squash Fries
What You'll Need:
(2 lb.) butternut squash
1 teaspoon nutmeg
2 teaspoons rosemary
2 tablespoons vegetable oil
Salt to taste
Instructions for Butternut Squash Fries
Using a
sharp knife
or
peeler
, peel the outside of the squash.
Cut the squash into 1/3 inch fry shaped pieces.
Toss in the oil, seasonings, & salt.
Bake in a 400 degree oven on a
sheet pan
& a COOLING RACK for 20 minutes.
Flip the fries.
Bake for another 20 minutes.
Enjoy!

Zucchini Fries
What You'll Need:
1 pound of zucchini
¾ cup flour
2 eggs, lightly beaten
1-1/2 cup Panko bread crumbs
1 teaspoon salt
1 teaspoon pepper
Instructions for Zucchini Fries
Cut the zucchini into long strips using a sharp knife.
Set up a dipping station with 3 bowls: one for flour, one for beaten eggs, and one for panko bread crumbs.
Lightly coat the zucchini strips in flour.
Next, dip the strips into the egg.
Lastly, roll the zucchini strips in the Panko bread crumbs.
Bake in a 400 degree oven on a sheet pan & a
COOLING RACK
for about 15 minutes.
Flip the zucchini strips and cook another 15 minutes or until golden
Enjoy!
Even little children LOVE these fry alternatives. Because they're baked and made with healthier ingredients they're better for your belly without torturing your taste buds! You'll never want to go back to fried potato fries again, after all...what would be the point in that?
Have a fantastic Memorial Day Weekend!
-
Heather ;)
Music used: "Slumlord" by lotagblanco