Navigation Search: Our Newest Site Feature
If you have spent any amount of time on KaTom's website in the past couple of days, you may have noticed a few changes that we have implemented to try to make our site more effective and user friendly. The most noticeable change to our site has been the addition of navigation search, which allows you to narrow down your search results to provide you with more accurate results. This search allows you to choose from a list of options to help you find the piece of equipment that fits your needs and is perfect for your commercial kitchen.
For example, if you are looking at our commercial microwaves page, it will look like this: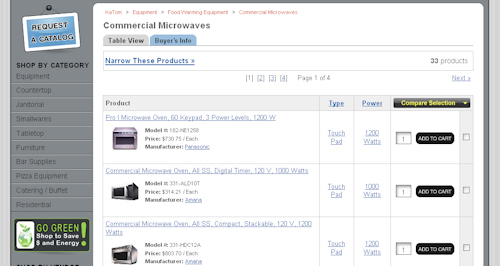 From here, you will click on the "Narrow These Products" link to show the available options for narrowing your search.





After opening your search options, you may choose from any on the scroll down lists for further narrow your search results. These particular options let you choose the price range of the microwave you are looking for, the manufacturer, the type, and the power in watts.
Do you, the customer, find this type of search helpful? We are always looking for ways to improve our site & would love to have feedback on this new navigation search. Feel free to send comments letting us know any problems or positive experiences you have with the search.