A "pear" of KaTom recipes with real autumn appeal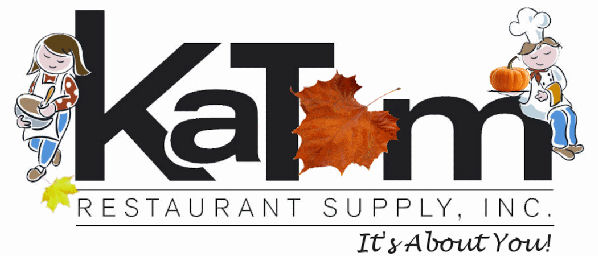 We would like to share a couple of seasonal recipes for November. Both are made with healthy fruits and seasonings that are plentiful this time of year. They are very tasty, nice dishes to try by themselves or for your holiday meals.
Poached Pears with Raisin Sauce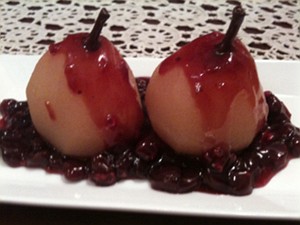 Preparation
Peel 4 pears; leaving stems in place (I used Bartlett)
Bring 2 cups cranberry juice, 1 cups water & ½ cup sugar to a boil in medium size pan
Reduce heat to simmer & add 1 cinnamon stick or ½ teaspoon cinnamon & pears
Cover and cook until tender (20-25 minutes)
While pears cook make raisin sauce by cooking over medium heat:
1 cup raisins
1 cup cranberry juice
1 cup sparkling grape juice
½ cup sugar
1 teaspoon corn starch
Cook until raisins plump and sauce thickens
When pears are tender remove from mixture and drizzle with raisin sauce for serving warm or let cool and serve at room temperature
Baked Apples with Caramel Sauce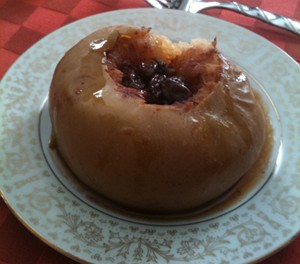 Preparation
Preheat oven to 325 degrees
Wash, dry & remove core from 4 tart apples leaving bottom of apple intact
Stuff each apple with 1 tsp. raisins, 2 tbs. brown sugar, 1 tbs. butter and ¼ tsp. cinnamon
Place in covered baking dish and bake for 30-45 minutes, until apples are tender
Drizzle sauce over apples to serve
We hope you enjoy these wonderful and easy recipes. And from all of us at KaTom, have a pleasant Thanksgiving holiday.
Thank You,


Anyone building or renovating schools that involve kitchens, serving areas or dining areas, please contact me at MaryLou@KaTom.com or 865-223-1150 or KaTom direct at (800-541-8683 or 423-586-5839). We would be grateful for the opportunity to provide quotes or respond to bids or RFPs on any and all items needed.