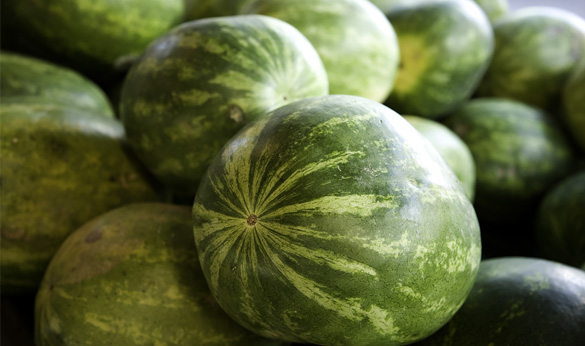 Mary Lou Henry's Recipes of the Month: June
Recipes of the Month
Since most melons are now in season, we are presenting two recipes that use fresh fruit. These are great for parties or served as an appetizer.
Melon with Raspberry Sauce
Serves: 6
Ingredients:
2-2/3 cups unsweetened raspberries
3 tbsp. honey
1 tsp. lemon juice
1/8 tsp. ground ginger
1 large cantaloupe
1 medium honeydew melon
Directions:
Set aside a few raspberries for garnish. Place the remaining berries in a blender or food processor; cover and process until pureed. Add the honey, lemon juice, and ginger; cover and process. Strain and discard seeds; set sauce aside. Cut the cantaloupe and honeydew into three wedges; cut each wedge widthwise in half. Remove seeds and rind. With a knife, slice each piece of melon lengthwise toward narrow end without cutting completely to the end. Open into a fan shape. On each dessert plate, place 2 tablespoons of raspberry sauce and a cantaloupe fan and honeydew fan. Garnish with reserved raspberries.
Strawberry-Melon Salad
Serves: 6
Ingredients
1 cup lemon yogurt
1 tbsp. honey
1 tsp. lemon juice
2 cups watermelon balls
2 cups cantaloupe balls
2 cups halved fresh strawberries
Directions:
In a salad bowl, whisk together the lemon yogurt, honey, and lemon juice until smooth. Gently fold in the watermelon balls, cantaloupe balls, and strawberries. Toss to coat, and serve.