Mary Lou Henry's Recipes of the Month: February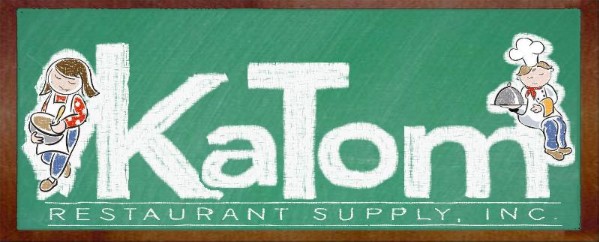 Mary Lou Henry's Recipes of the Month
With Valentine's Day this month, I wanted to share some simple, easy-to-prepare-the-evening-before recipes. It is sometimes nice to go out for a special Valentine's Day dinner but due to circumstances such as family, work schedules, crowded restaurants, etc. it is often more enjoyable to share a less hectic, more relaxed dinner at home with that special someone or our families we love. The three recipes I have chosen can all be prepared the day before with less than one hour of finishing time required prior to serving. Add some warm bread and a side of your favorite green vegetable such as roasted asparagus or green beans and you have a simply delightful dinner that looks and tastes like you have spent hours to prepare.
Raspberry Rhubarb Salad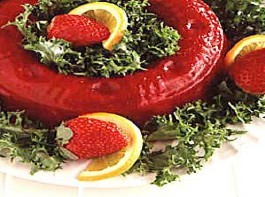 1 lb. pkg. frozen rhubarb or 3 cups chopped fresh rhubarb
1/3 c. sugar
1 (6 oz) pkg. raspberry Jello
1 pkg. Knox gelatin
1 c. chopped pecans
1 lg. can (sweetened) crushed pineapple (do not drain)
1/2 c. diced celery
1 Tbs. fresh orange zest
Cook rhubarb in 1 cup water until mushy. Add sugar and stir until dissolved. Add raspberry Jello and Knox gelatin to hot rhubarb, stirring until dissolved. Add large can undrained crushed pineapple and remove from heat. Add remaining ingredients, mix well.
Spray large baking dish (9X13) with pan spray and pour mixture into baking dish; put in refrigerator until set, preferably overnight. Cut salad into squares and serve with a tablespoon sour cream per serving. Looks pretty with lettuce under salad and sour cream on top. Yield 12 servings or more.
Chicken Casserole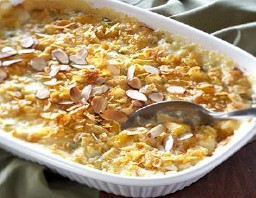 4 large chicken breasts, cooked, deboned and chopped
1 c. milk
1 box Stove Top Stuffing (chicken flavored) prepared
1 Tbs. minced onion (optional)
1 can cream of celery soup
1 tsp. dried parsley
1 small pkg. almond slices
Spray medium size casserole dish with pan spray. Place prepared Stove Top dressing in dish, top with chopped chicken. Wisk together milk and cream of celery soup and pour over chicken. Sprinkle with minced onion (optional) and parsley. Place in preheated 350 degree oven for 30 minutes. Five minutes before finished baking, remove from oven and sprinkle sliced almonds on top, return to oven. This can be made the day before and refrigerated, if so allow to stand at room temperature while preheating oven and bake for 5 additional minutes.
Chocolate Mousse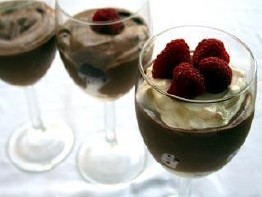 4 1/2 ounces bittersweet chocolate, finely chopped (I use Ghirardelli chocolate)
2 tablespoons (1 ounce) unsalted butter, diced
2 tablespoons espresso or very strong coffee (I used Starbucks decaf espresso)
1 cup cold heavy cream
3 large eggs, separated
1 tablespoon sugar
(Optional) strawberries and extra whipped cream
Whip the cream to soft peaks, then refrigerate. Combine the chocolate, butter, and espresso in the top of a double boiler over hot, but not simmering, water, stirring frequently until smooth. Remove from the heat and let cool until the chocolate is just slightly warm to touch, but not hot. While the melted chocolate is cooling, whip the egg whites in a medium bowl until they are foamy and beginning to hold a shape. Sprinkle in the sugar and beat until soft peaks form. When the chocolate has reached the proper temperature, briskly whisk in the yolks. Gently stir in about one-third of the whipped cream. Fold in half the whites just until incorporated, then fold in the remaining whites, and finally the remaining whipped cream. Spoon or pipe the mousse into individual serving bowls. If you wish, top with fresh strawberries and whipped cream before serving. Refrigerate for at least 8 hours. (The mousse can be refrigerated for up to two days.) Serves 5-8, depending on the size of the servings.