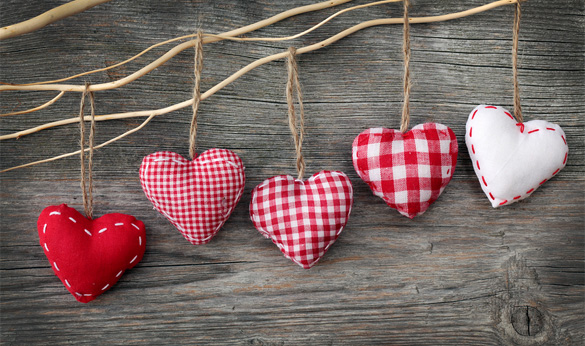 Recipes of the Month from Mary Lou Henry
With Valentine's Day this month, here are some easy recipes that you can prepare the night before and require only about 30 minutes to make. These 2 recipes can both be prepared the day before with less than one hour of finishing time required prior to serving. Add some warm bread and a side of your favorite green vegetable such as roasted asparagus or green beans and you have a delicious dinner for the whole family.
Chicken Casserole
Ingredients:
4 large cooked chicken breasts, chopped
1 cup milk
1 box Stove Top Stuffing (chicken flavored), prepared
1 tbsp. onion, minced
1 can cream of celery soup
1 tsp. dried parsley
3 oz. almond slices
Directions:
In a greased medium sized casserole dish, add the dressing and top with chicken. Wisk together milk and cream of celery soup and pour over chicken. Sprinkle with minced onion and parsley.
Place in preheated 350 degree F oven for 30 minutes. 5 minutes before finished baking, remove from oven, sprinkle sliced almonds on top and return to oven.
This can be made the day before and refrigerated, if so allow to stand at room temperature while preheating oven and bake for 5 additional minutes.
Chocolate Mousse
Serves: 5-8
Ingredients:
4-1/2 oz. bittersweet chocolate, finely chopped
2 tbsp. unsalted butter, diced
2 tbsp. espresso or coffee
1 cup cold heavy cream
3 large eggs, separated
1 tbsp. sugar
(Optional) strawberries and whipped cream
Directions:
Whip the cream to soft peaks and refrigerate.
Combine the chocolate, butter, and espresso in the top of a double boiler, stirring frequently until smooth. Remove from the heat and let cool until the chocolate is just slightly warm to touch.
While the melted chocolate is cooling, whip the egg whites in a medium bowl until they are foamy and beginning to hold a shape. Sprinkle in the sugar and beat until soft peaks form.
When the chocolate has cooled, whisk in the yolks. Gently stir in about a third of the whipped cream. Fold in half the whites just until incorporated, then fold in the remaining whites. Finally, the remaining whipped cream.
Spoon or pipe the mousse into individual serving bowls. If you wish, top with fresh strawberries and whipped cream before serving. Refrigerate for at least 8 hours.
The mousse can be refrigerated for up to 2 days.