Enjoy value year-round from Grindmaster-Cecilware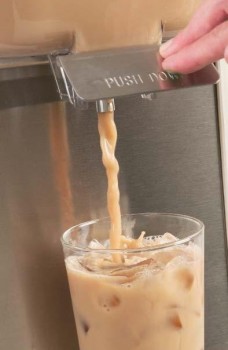 Everyone in the foodservice industry is constantly looking for a cheaper way to give their customers a better product while at the same time generating more profits. So, when KaTom offers lower prices on products that already provide all that, you're talking some hot deals on beverage dispensers from Grindmaster-Cecilware.
The company calls its lineup of drink dispensers "The better bubbler" because of the efforts it has made to make them more sanitary, easier to operate, and more profitable. Stainless steel surfaces and rounded corners in the tank make cleaning easier, as does a simpler mechanism in these drink dispensers, which means fewer parts to wash. Grindmaster-Cecilware beverage dispensers are great for almost any drink you could think up, from juice to iced coffee, smoothies to dairy products, cocktails to tea.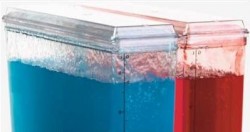 Boost profits with a Grindmaster-Cecilware beverage dispenser
Operating a Grindmaster-Cecilware drink dispensing machine clearly has an impact on your bottom line – and we do mean clearly. That's because these great pieces of restaurant equipment all come with clear tanks, which means your drinks are constantly on display as they splash about merrily with the help of the circulator. That sort of visual appeal has been proven to increase profits by convincing more customers to have a drink.
Enhancing the appearance of your drinks, every one of these Grindmaster-Cecilware beverage dispensers comes with both an agitating circulator and a spray circulator. The first uses an auger inside the tank to keep your product freshly mixed and is great for any use, but especially for iced beverages like smoothies, dairy products, and teas. The spray circulator helps with merchandising by turning your beverages into a sparkling fountain as they hit the top of the tank and cascade back down.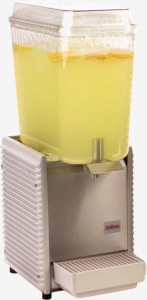 Your customers will also be pleased by the always-cold service of these drink dispensers, which use a unique evaporator that cools faster and more efficiently, meaning reduced energy needs and lower prices on your power bills. Two-piece stainless steel drink dispensing systems that are either activated by pressure from the cup or the customer's hand also keep drinks cold from the tank to the cup.
KaTom is offering special lower prices through the end of the year on four Grindmaster-Cecilware beverage dispensers, including the D154 drink dispenser with a single 5-gallon tank, the D254 drink dispenser with two 5-gallon tanks, the D354 drink dispenser with a trio of 5-gallon tanks, and the E494 with a bank of four 2.4-gallon tanks.
With the new lower prices, you get a savings off the retail price for these drink dispensing machines ranging from $546.50 on the D154 to $1,080.50 on the E494. But remember, these deals will only last through the end of 2012, expiring at the same time special tax credits on restaurant equipment purchases do, so you have to act fast!
For more information on these lower prices or the great lineup of Grindmaster-Cecilware beverage dispensers, please call one of our helpful customer service representatives at 800.541.8683 or e-mail us at info@katom.com.