Team KaTom takes on 3.1 miles of colorful fun in fundraiser for Second Harvest Food Bank of East Tennessee
Undaunted by wind, rain, and even low-hanging clouds of brightly-colored dust, Team KaTom took to the pavement in West Knoxville Saturday, Feb. 23, joining hundreds of other folks in the Color Bash 5K. It was a great event that raised money for Second Harvest Food Bank of East Tennessee, which provides assistance to individuals and to other non-profits serving the hungry, including our neighbor Sevier County Food Ministries.
One more than a baker's dozen of brave souls donned their KaTom T-shirts and hit the pavement. It was a timed course, though there were not prizes offered. Everyone on the KaTom Team crossed the finish line and had a great time! To explain the Color Bash concept, it's basically a normal 5K with the addition of people stationed along the sides of the course every little bit who toss a safe colored powder onto runners. It adds a little more fun to the 5K concept and, as the Color Bash folks say, "Why not?"
Congratulations to the KaTom runners: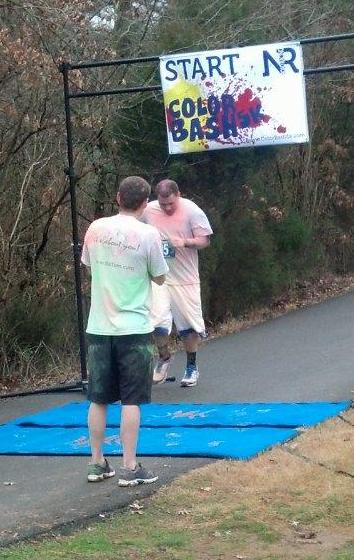 Alysha Baxley
Shuntia Gill
Charley Bible
Meagan Thompson
Jody Brooks
Janelle Ronsse
Charles Hatchett
Amy Hatchett
Annie Hatchett
Nick King
Jennie Williamson
Brandi Johnson
Will Kieffer
Tony Pugh.
Picture at right: Charles Hatchett cheers on fellow KaTom Team member Nick King as he crosses the finish line.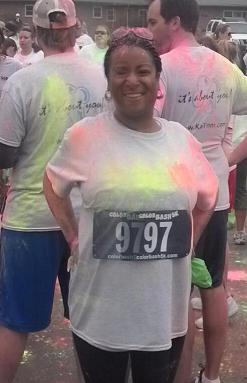 Shuntia is all smiles after completing the color run. She seems to have escaped the worst of the colorful clouds, though, from the looks of her glasses, we're guessing she's confident she got her fair share. That's Tony on the left and Will on the right behind her.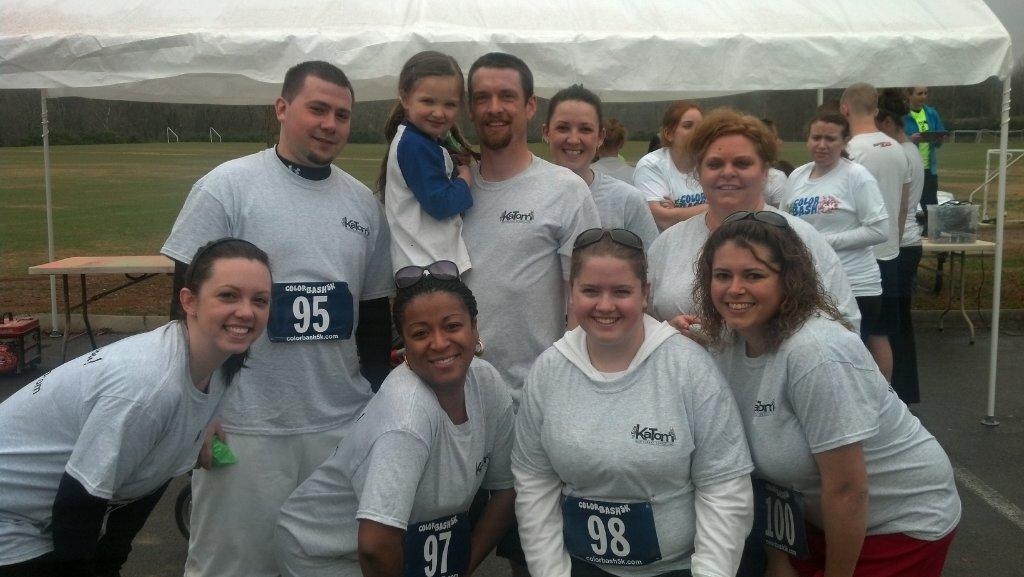 Most of Team KaTom gathered for a group picture before the race began. Here are, from left, (front row) Meagan, Shuntia, Janelle, Brandi, (second row) Nick, Annie, Charles, Amy, and Jennie in a pre-colorfied state.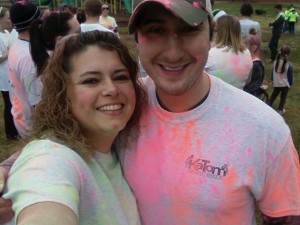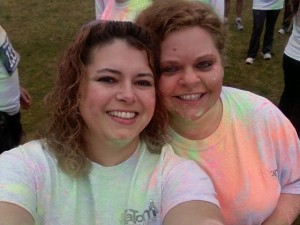 Left: Brandi and Charley show their true colors as they join in the post-Color Bash celebration.
Right: Brandi and Jennie bask in colorful post-run euphoria.