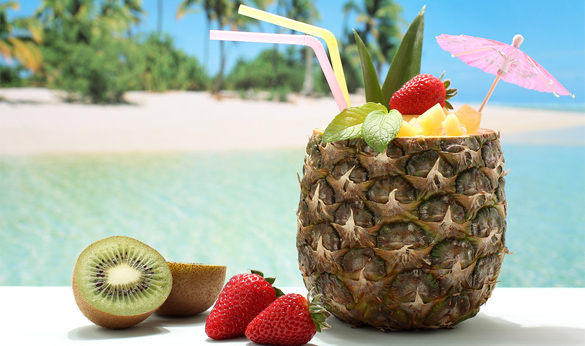 It's National Rum Punch Day!
Rum Punch
Recipe and photo courtesy of http://www. marthastewart.com
It's National Rum Punch Day! So, now you have an excuse for drinking rum until your heart's content. This rum punch recipe, courtesy of www.marthastewart.com, is a refreshing take on the elixirs found in Honduras. Inspired by the sea and salt air, this light and sweet beverage will make you feel like you're sunbathing on the coast of the Caribbean Sea.
Ingredients:
1 1/2 cups light rum
3 cups freshly squeezed orange juice
3 cups fresh pineapple juice
3 tablespoons freshly squeezed lime juice
2 tablespoons cranberry juice
2 tablespoons grenadine
Ice cubes
1 lime, thinly sliced, for garnish
Directions:
In a large pitcher, combine the rum, juices, and grenadine. Stir until well blended. Fill glasses with ice; divide mixture between glasses. Garnish with lime and serve immediately.
Enjoy!