It's National Peach Pie Day....
Your Peach Pie Day Recipe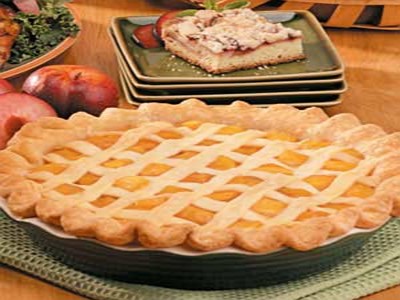 Recipe and photo courtesy of http://www. TasteofHome.com
It's National Peach Pie Day! For this special food holiday, you can create a peach pie that's sure to be a crowd pleaser. And this recipe, from Taste of Home, is a five-star winner! There's nothing better than a huge slice of peach pie and a couple of scoops of vanilla ice cream. So put your apron on and celebrate Peach Pie Day with this yummy dessert!
Ingredients:
1/2 cup sugar
1/4 cup packed brown sugar
4-1/2 cups sliced peeled peaches
Pastry for double-crust pie (9 inches)
3 tablespoons cornstarch
1/4 teaspoon ground nutmeg
1/4 teaspoon ground cinnamon
1/8 teaspoon salt
2 teaspoons lemon juice
1 tablespoon butter
Directions: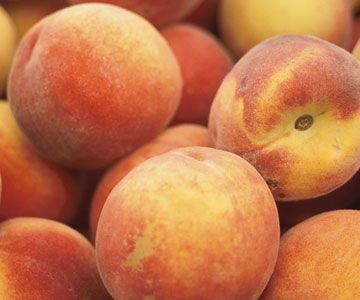 In a large bowl, combine sugars; add peaches and toss gently. Cover and let stand for 1 hour. Line a 9-in. pie plate with bottom pastry; trim even with edge. Set aside. Drain peaches, reserving juice.
In a small saucepan, combine the cornstarch, nutmeg, cinnamon and salt; gradually stir in reserved juice. Bring to a boil; cook and stir for 2 minutes or until thickened. Remove from the heat; stir in lemon juice and butter. Gently fold in peaches. Pour into crust.
Roll out remaining pastry; make a lattice crust. Trim, seal and flute edges. Cover edges loosely with foil. Bake at 400° for 50-60 minutes or until crust is golden brown and filling is bubbly. Remove foil.
Cool on a wire rack. Yield: 6-8 servings.
Nutritional Facts:
1 serving (1 piece) equals 380 calories, 16 g fat (7 g saturated fat), 14 mg cholesterol, 254 mg sodium, 59 g carbohydrate, 2 g fiber, 3 g protein.