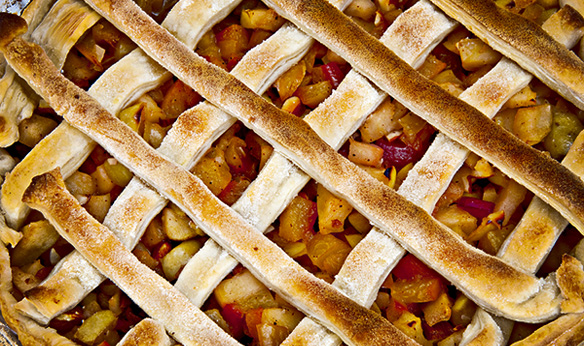 It's National Peach Pie Day
August 24th is National Peach Pie Day and we are featuring one of Taste of Home's 5 star recipes. It is simple, delicious, and requiring only 10 ingredients, this pie can be prepped and in the oven in less than 45 minutes.
Peach Pie
Adapted from Taste of Home
Serves: 6-8
Ingredients:
1/2 cup sugar
1/4 cup packed brown sugar
4-1/2 cups peaches, peeled and sliced
Pastry for double-crust pie (9 in.)
3 tbsp. cornstarch
1/4 tsp. ground nutmeg
1/4 tsp. ground cinnamon
1/8 tsp. salt
2 tsp. lemon juice
1 tbsp. butter
Directions:
In a large mixing bowl, combine sugars and then add peaches and toss gently. Cover and let stand for 1 hour. Line a 9-in. pie plate with bottom pastry; trim even with edge. Set aside. Drain peaches, reserving juice.
In a small saucepan, combine the cornstarch, nutmeg, cinnamon and salt; gradually stir in reserved juice. Bring to a boil; cook and stir for 2 minutes or until thickened. Remove from the heat; stir in lemon juice and butter. Gently fold in peaches. Pour into crust.
Roll out remaining pastry; make a lattice crust. Trim, seal and flute edges. Cover edges loosely with foil. Bake at 400 degrees F for 50-60 minutes or until crust is golden brown and filling is bubbly. Remove foil and cool on a wire rack.