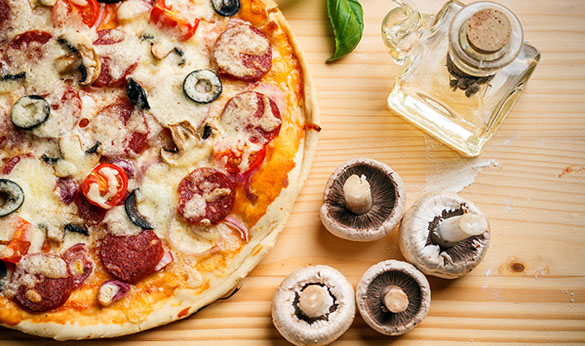 It's National Cheese Pizza Day
Pizza is a staple of many American diets and September 5th is National Cheese Pizza day. Here is quick recipe for a classic 4 cheese margherita pizza with Roma tomatoes and fresh basil.
Four Cheese Margherita Pizza
Adapted from allrecipes.com
Makes 2 pizzas
Ingredients:
1/4 cup olive oil
1 tbsp. minced garlic
1/2 tsp. sea salt
8 Roma tomatoes, sliced
2 (12 in.) pre-baked pizza crusts
8 oz. shredded Mozzarella cheese
4 oz. shredded Fontina cheese
1/2 cup freshly grated Parmesan cheese
1/2 cup crumbled feta cheese
10 fresh basil leaves, washed, dried
Directions:
Stir together olive oil, garlic, and salt; toss with tomatoes, and allow to stand for 15 minutes. Preheat oven to 400 degrees F (200 degrees C).
Brush each pizza crust with some of the tomato marinade. Sprinkle the pizzas evenly with Mozzarella and Fontina cheeses. Arrange tomatoes over top, then sprinkle with shredded basil, Parmesan, and feta cheese.
Bake in preheated oven until the cheese is bubbly and golden brown, about 10 minutes.