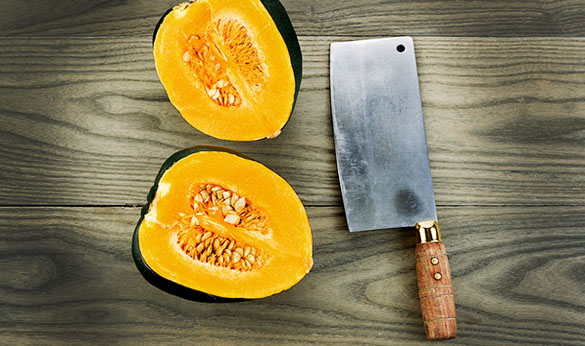 It's National Acorn Squash Day
Many people have never tried acorn squash; however, on September 7th, National Acorn Squash day, we encourage you to try it with this quick 30 minute recipe. Acorn squash has a rich and subtly sweet flavor that pairs well with a wide variety of flavors.
Sara's Italian Sweet and Savory Squash Bowls
Adapted from theKitchn
Ingredients for filling:
2 small to medium acorn squash, cut in half
16 oz. Italian turkey sausage (or any Italian sausage meat or meat substitute)
1-2 tbsp. olive oil (divided)
2 cloves garlic, minced
1/3 cup yellow onion, chopped
1-1/2 tsp. red pepper flakes
1/2 tsp. Italian herb mix (dried oregano, thyme, basil, parsley - use fresh if you have it!)
1/2 cup roasted red peppers, chopped
1/4 cup reconstituted sundried tomatoes or roasted tomatoes, chopped
1/2 cup drained canned or jarred artichoke hearts, chopped
2 cups fresh baby spinach
1/4 cup fresh basil, sliced into thin ribbons
Salt and pepper as needed
Ingredients for topping:
Fresh whole wheat bread crumbs
Kosher or sea salt
4 tbsp. water
4 pinches of black pepper
1/2 cup hard cheese such as parmesan or pecorino cheese, finely grated
Directions for fresh bread crumbs:
Toast 2 slices of whole wheat bread in a toaster until deep brown, chop into fine bread crumbs (it should be easy if toast is very crispy), and fry in 1/2 tablespoon of olive oil. Toss with a big pinch of salt and set aside.
Directions:
Wash, halve, and scrape the seeds an pulp out of the inside of the squash. Place the upside down squash in a microwave safe shallow dish with a little water (about 1/2 inch deep). Microwave on high for 7-10 minutes or until tender. Leave in microwave until ready to use.
In a large saute pan, fry crumbled turkey sausage, olive oil, onions, garlic, red pepper flakes, and dry herbs on medium heat. When sausage is almost cooked through add chopped roasted red peppers, sundried tomatoes, and artichoke hearts. Cook until turkey is cooked through. Add 1/4 cup water if it seems dry. Add spinach and toss gently until spinach is wilted. Toss in the fresh basil. Taste for seasoning and salt as needed. Remove from heat.
Place squash halves on a lightly greased baking sheet. Scoop the filling into the squash halves and sprinkle with a pinch of black pepper. Add 1 tablespoon of water to each squash. Coat the filled squash with fresh breadcrumbs and sprinkle with a thick layer of grated cheese.
Broil just until cheese is lightly browned.