Isidro Rodriguez is a cancer fighter and a KaTom superhero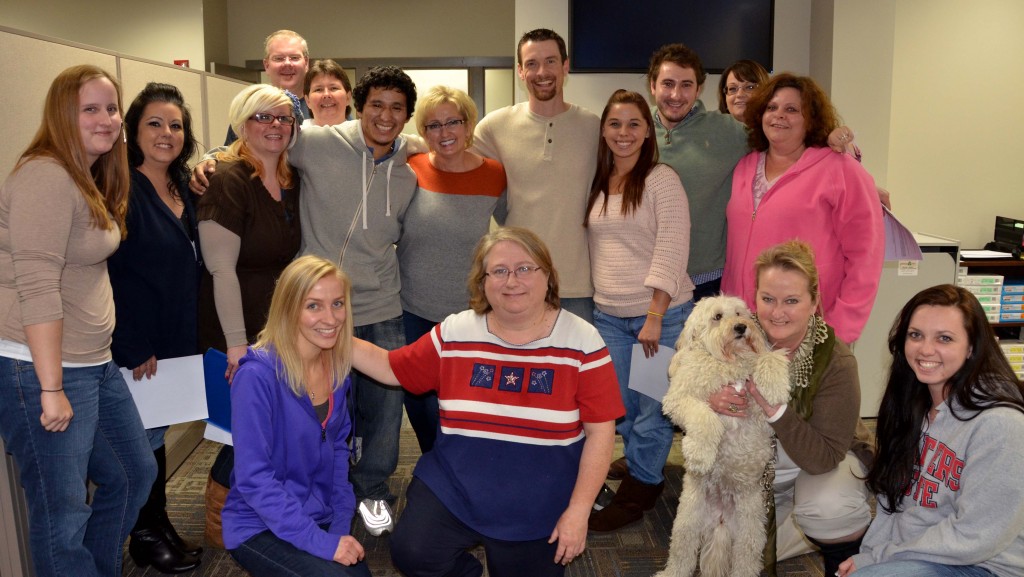 A short while back, our CEO Patricia Bible put out a call to the KaTom family that each of us should strive to be KaTom superheroes, to find those ways that we can go above and beyond for every customer. Little did we know we would soon have a real-live superhero in our midst who would prove his super-human abilities over and over.
Isidro Rodriguez (he's in the gray sweatshirt left of center in the second row) came to East Tennessee and KaTom by way of the U.S. military, with two tours in the U.S. Marine Corps that took him to Afghanistan and Iraq. His ability to speak both English and Spanish fluently made him an obvious choice to serve as a bilingual customer service representative. His constant smile, easy laugh, and wonderful personality made him a favorite for many here at KaTom and for countless customers. Whether because he was raised that way or thanks to his military experience, maybe some of both, he addressed the men always as "sir" and put every female member of the KaTom family quickly at ease with his charming personality.
Though he was only a short time into his job here at KaTom – he started in June 2012 – when we packed up and moved the entire operation to another county, Isidro pitched in throughout the weekend we made the transition. Always with that smile on his face, he unloaded freight, set up shelves, and hefted more merchandise than anyone else, it seemed. He also willingly spent the next few weeks continuing his efforts in the warehouse, as his comfortable chair in the climate-controlled office sat empty.
Given all that, it hit us all hard when Patricia sent out an e-mail three days after Christmas informing us that doctors discovered a tumor in this 27-year-old man's gut, one they had already acted to remove. Fortunately, they believe they got all the cancer there, though it was confirmed to have metastasized to his lymph nodes.
Isidro left East Tennessee in early January for treatment at the University of North Carolina's Lineberger Comprehensive Cancer Center. The folks there sent him on to the Duke University Cancer Institute, where he will receive chemotherapy treatments for a year. He'll stay with family who live in that area through that time.
Isidro's battle is also a supreme example of what it means to be a part of the KaTom family. To say he is much loved around here is an understatement. That's why, when we got word of Isidro's cancer, the KaTom family came together in an astonishing way. A call for donations to help with his medical bills and other expenses was met with eager willingness to help, netting a total that even surprised us.
In addition to monetary support, KaTom's first family, the Bibles, was able to provide him with an Apple iPad that will enable him to keep up with his family in California and give him something to do during his lengthy chemotherapy treatments. Of course, he also had to promise to use it to keep in touch with us so we know the latest on his progress. We'll try to keep you updated, too.
Since we know Isidro is a superhero, we're certain he'll beat this. But we're still praying for him and we know he'd appreciate it if you did, too.